New steakhouse helmed by Giorgios Bakatsias in the works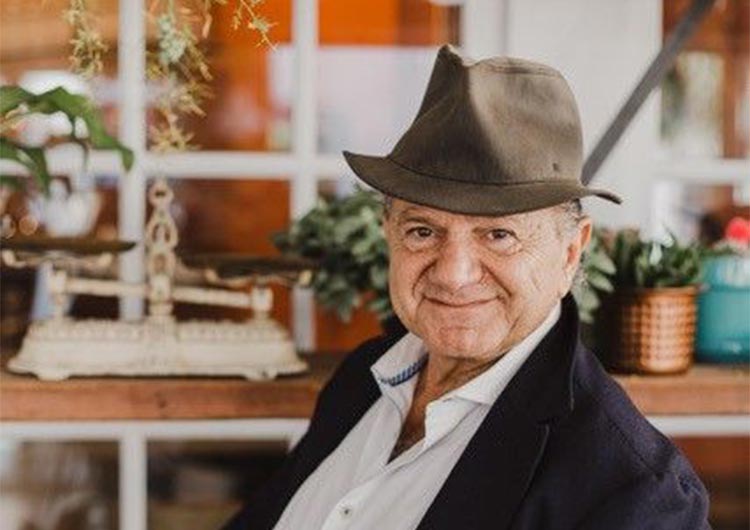 Mar 27, 2023
• 4 min. read
| By Miriah Hamrick
Renowned Triangle restaurateur Giorgios Bakatsias is bringing a luxury steakhouse to Wilmington. (Photo by Shannon Kelly/Courtesy of Giorgios Hospitality Group)
A prolific Triangle restaurateur has announced his plans to open a luxury steakhouse in Wilmington.

Giorgios Bakatsias, of Giorgios Hospitality Group, acquired the old Port City Chop House building at 1981 Eastwood Road in a $3.6 million transaction that closed on March 22. Expected to open this fall, the new restaurant will serve freshly butchered steaks alongside locally sourced fish and produce.

The concept will be modeled after Bin 54 Steak and Cellar, a Bakatsias operation in Chapel Hill. Various cuts of beef feature on the Bin 54 menu, and blue cheese butter, bearnaise, wasabi ponzu, and chimichurri are potential accompaniments for each steak. A la carte sides at Bin 54 include duck fat roasted potatoes, mushroom ragout, twice-baked potatoes, truffled four-cheese macaroni, haricots verts almondine and creamed spinach casserole.

Bakatsias said the Wilmington steakhouse's offerings will largely mirror those of Bin 54, but it will also employ its own unique approach given the coastal environment.

"I think we can expect probably 70% of that, and of course, we will add some vibrant energy from the seasonality of fresh salads or fresh seafood that we have there," he said.

At the heart of the concept is fresh, high-quality cuts of meat, which will be responsibly sourced and butchered in-house. That process translates to the best product for the customer, Bakatsias noted.

"You have to do your homework and at the end of the day, you've got to have a prime cut that's delicious when you eat it. You'll know right away if it's a cut of meat that's of quality," he said.

The presentation will allow each carefully sourced and prepared steak to shine, Bakatsias said.

"You want to keep that honest and pure, not complicate the plate with any ingredients," he said, adding that guests will be able to customize their experience with condiments or a la carte sides for the table.

The bones of the building will allow for "different zones of experience," Bakatsias noted. The 7,500-square-foot space will feature a piano bar and adjacent lounge area with seating for about 50 guests and a vibe that Bakatsias described as "celebratory."

A traditional dining room with space for 150 guests will be dressed in "darker, richer colors" compared to Kipos Hellenic Cuisine, Bakatsias' restaurant across Eastwood Road in Lumina Station, which Bakatsias said "represents the brightness of Mediterranean."

"I want to make sure the guests have a luxury space that they can enjoy. They can see and be seen, as I call it," he said.

Outside, a 1,000-square-foot garden with a fireplace will offer a relaxing space for an additional 80 to 100 guests.

A press release for the project also promises a "classic craft cocktail and mixology program" as well as "one of the largest, most prolific wine cellars in the area."

Named the 2022 Restaurateur of the Year by the N.C. Restaurant & Lodging Association, Bakatsias has opened more than a dozen concepts in Durham, Chapel Hill, Raleigh and Wake Forest. This restaurant marks his third foray into the local market, following the August 2022 opening of Kipos Hellenic Cuisine and the November 2022 announcement that he will helm the food and beverage program for The Commodore Club at Wrightsville Yacht Club, a floating restaurant and social club coming to Wrightsville Beach in 2024.

Wilmington appeals to Bakatsias for its business-friendly environment and kind community, he said.

"You can't find that everywhere, and I think it's good that the Southern hospitality still has a vibrant life," he said.

Wilmington-based commercial real estate broker Steve Hall represented the seller, a Wilmington-based entity managed by Mark Maynard Jr., in the sale to Giorgios Hospitality Group.

"1981 Eastwood Road is a very special property and known as the location for providing a fine-dining experience to the people of Southeastern NC over the past 20 years. When we first met with [Giorgios], we immediately realized that his group was the perfect candidate for this property, so we worked together to structure a sale scenario that would be a win/win for both parties," Hall said in an email Thursday. "We look forward to patronizing his new restaurant and watching them prosper throughout the years to come."

Reporter Cece Nunn contributed to this report.