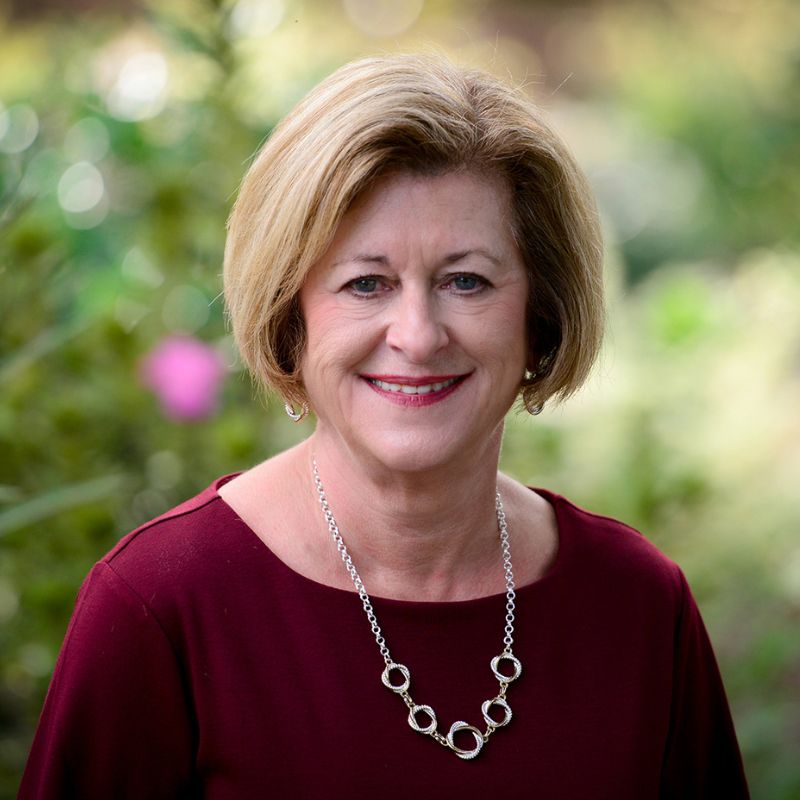 Follow Gwen
Email Gwen

Senior Living
Apr 18, 2023
Volunteers Add Needed Support to Hospice's Mission
Sponsored Content provided by Gwen Whitley - RN, CHPCA, President and CEO, Lower Cape Fear LifeCare
April 16-22 is National Volunteer Appreciation Week. Many nonprofit organizations nationwide rely on volunteers to accomplish all that they do. One such nonprofit is Lower Cape Fear LifeCare (LCFL), which was founded in 1980 by a small group of dedicated volunteers to offer people with terminal illnesses the option of a pain-free, dignified death through hospice. Its volunteers have always played a significant role in its mission.
Before COVID-19, LCFL boasted a robust team of almost 500 volunteers. However, volunteer operations had to be suspended due to safety concerns during the pandemic, and many volunteers did not return after restrictions were lifted.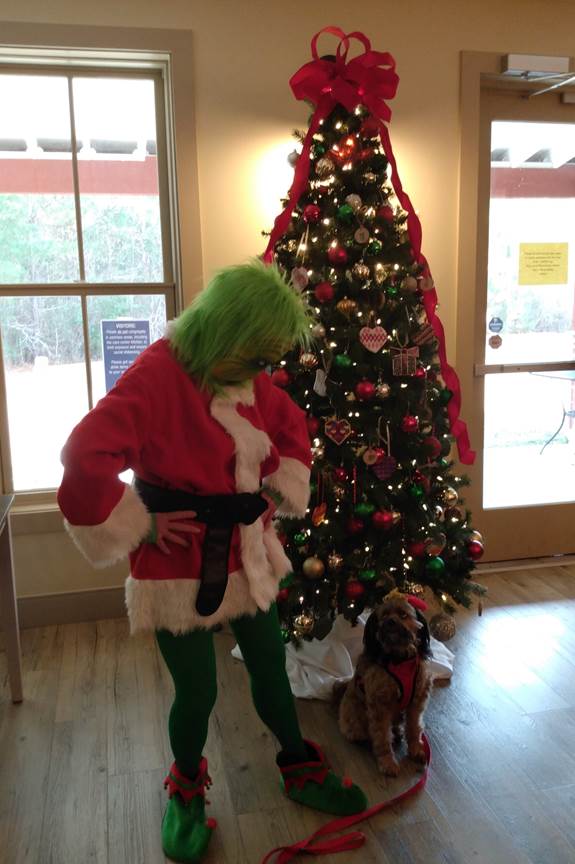 Several who did return are long-time LCFL volunteers, like Mary Claire McNaught. After retiring to the area in 2015, she signed up to volunteer. She was previously a hospice volunteer for 11 years in Winston-Salem.
McNaught volunteers with her therapy dogs: Izzy, a 14-year-old West Highland White Terrier; and Louie, a 12-year-old mutt. Both are rescue dogs. She claims they do the real work, "I just provide the ride."
Together, they brighten the days of patients and families at LCFL's SECU Hospice House of Brunswick. Working with only one dog at a time, they make the rounds to bring everyone there a little cheer.
"Izzy is a cuddler and gives lots of love," McNaught said. "Louie is always the little showman with his 'look at me' attitude. He makes everyone smile by just being Louie."
McNaught said Izzy and Louie help by defusing tense moments giving family members the chance to look away from the hard parts of life. In return, she gets something beautiful from her interactions.
"I get a rich opportunity to learn about people," she said. "What they share during the last days of life is very meaningful. I meet people that make life wonderful – the guy that enjoys fishing, the retired teacher –amazing people that make up our community."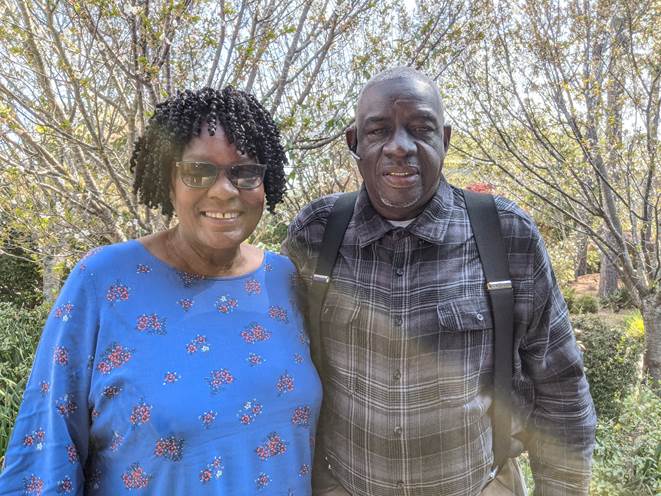 James and Deloris Hansley have volunteered at the Dr. Robert M. Fales Hospice Pavilion for about 11 years. James greets visitors, and Deloris provides support to patients and their family members.
"I love talking to people," Deloris said. "I enjoy what I do at the care center. It's a gift that has been given to me."
James, a former truck driver who lost a leg during an accident in 2005, says it's one way he can give back.
"God's been good to me," he said. "I could have died in that accident, but I didn't."
The tragedy taught him that life is not about worrying about the "petty" stuff.
The couple provides Thanksgiving Dinner for the facility's family kitchen each year in honor of their only child, Dontay, who died on Thanksgiving Day 2016. They said it lets them focus on others that day and not dwell on their loss.
"We've done large breakfasts and turkey dinners with all the trimmings," Deloris said.
During COVID, they brought in stacks of frozen turkey dinners because of health and safety precautions.
"We understand what they are going through at this time in their lives," Deloris said.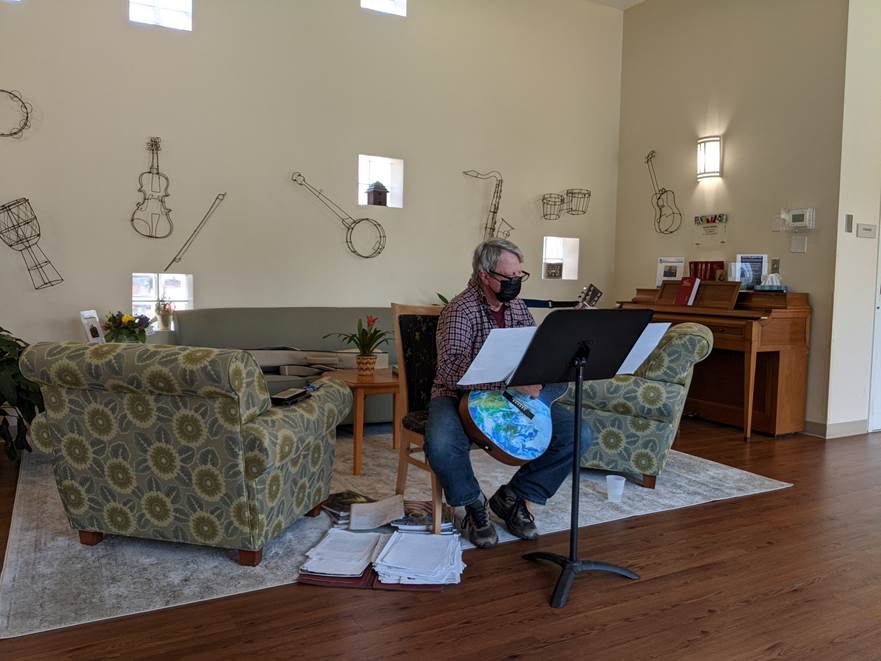 John Shalanski volunteers by playing the guitar at the Wilmington hospice care center and for Tile Tribute Ceremonies. He has also provided holiday music at the agency's yearly Cape Fear Festival of Trees.
A retired Veterans Administration social worker, Shalanski wanted to keep active. He was familiar with hospice because the VA hospital he worked at in Pennsylvania had a hospice unit.
At first, he made bereavement calls to check on family members six months after the death of their loved one. He told one of LCFL's counselors about his guitar playing and soon after started playing at the care center.
He now plays twice a week for about three hours per day. His playlist is derived from what he would like to hear if he was a patient or family member – songs with a message. He also plays requests.
"I get a lot of requests for 'Amazing Grace' and 'You Are My Sunshine'," Shalanski said. "I sometimes get requests to go into the patient's room and play. I really like that."
When asked why he volunteers, Shalanski responded. "It's energizing," he said. "This is my favorite place to play."
He understands being a hospice volunteer isn't for everyone, but he encourages, "Try it! I think the primary criteria for being a volunteer here is to have compassion and empathy."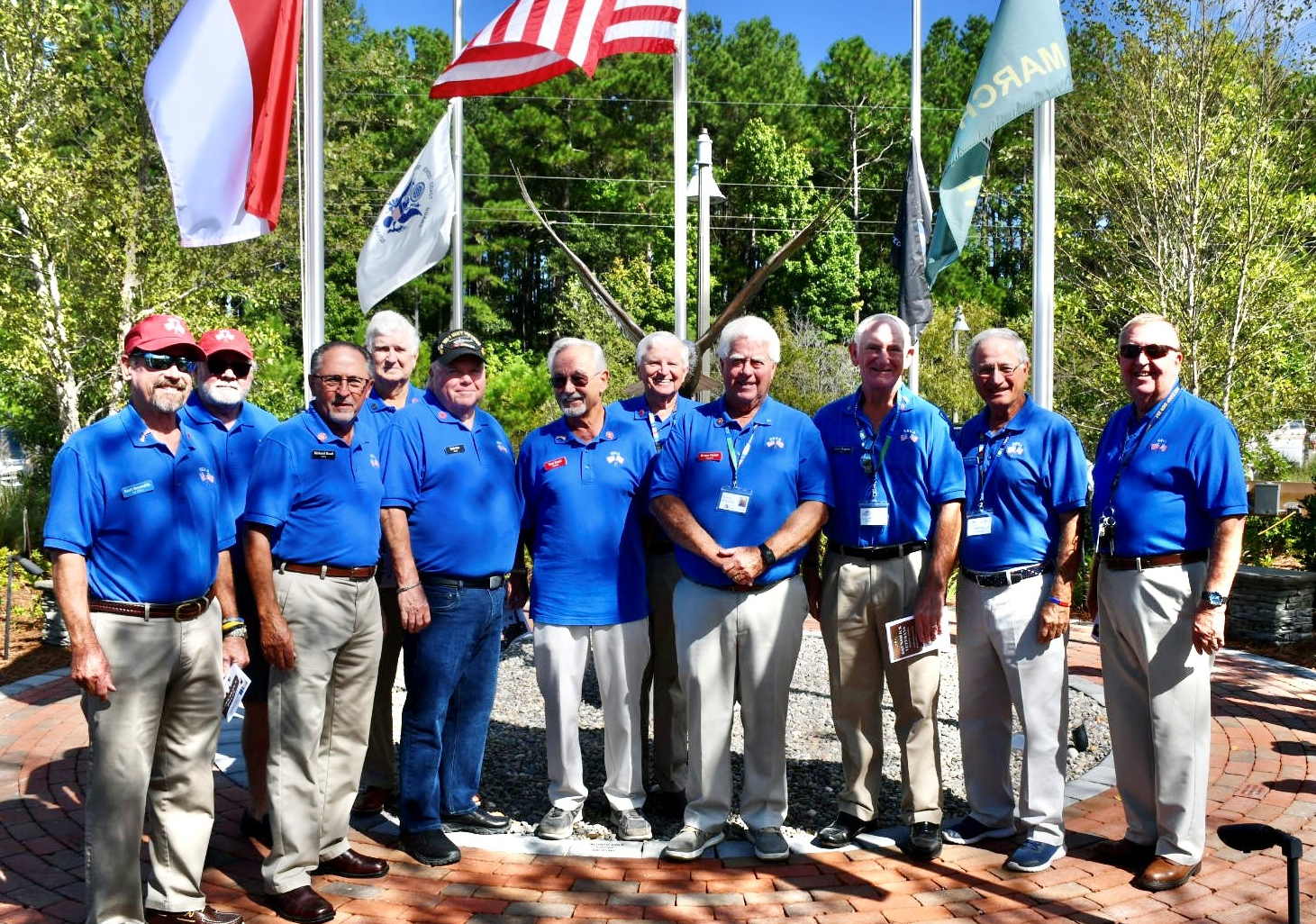 The LCFL Blue Boys are Vet-to-Vet volunteers from the Rivers Edge Veterans Association (REVA) in Brunswick County. These dedicated men come to the aid of Veteran patients whenever asked. Whether it's to help with chores, provide companionship, sing folk songs, or honor a fellow veteran with a pinning ceremony, they are always willing to help.
In 2017, several REVA members became Vet-to-Vet volunteers to help meet the special needs of Veteran hospice patients. They were introduced to the Veteran Pinning Ceremony and were asked if it was a service they would be interested in performing. The rest is history. The group fully embraced the concept and makes themselves available to provide pinning ceremonies whenever and wherever they are requested. Often at a moment's notice.
"To give them the recognition that many of them may have never gotten, to help them, and to help the families to witness and be comforted as that vet is transitioning to the next world is important," Blue Boy Larry Shapiro said. "There's nothing as sacred as being there to honor a vet when they're leaving this world. It's very special to us."
Lower Cape Fear LifeCare is actively recruiting volunteers to rebuild its volunteer team. It offers monthly volunteer orientations throughout its service area. It has a variety of volunteer opportunities. Some are directly involved with patients and families while others work behind the scenes performing administrative duties, assisting with fundraising, and helping in various other ways. LCFL encourages people to reach out to see where their talents might be a fit.
If you would like more information about becoming a hospice volunteer, call 910-796-7900, or visit lifecare.org. If you are interested in applying to become a LCFL volunteer, go to https://lifecare.org/get-involved/volunteer/.
Other Posts from Gwen Whitley