New Novant facility offers cutting-edge neurological care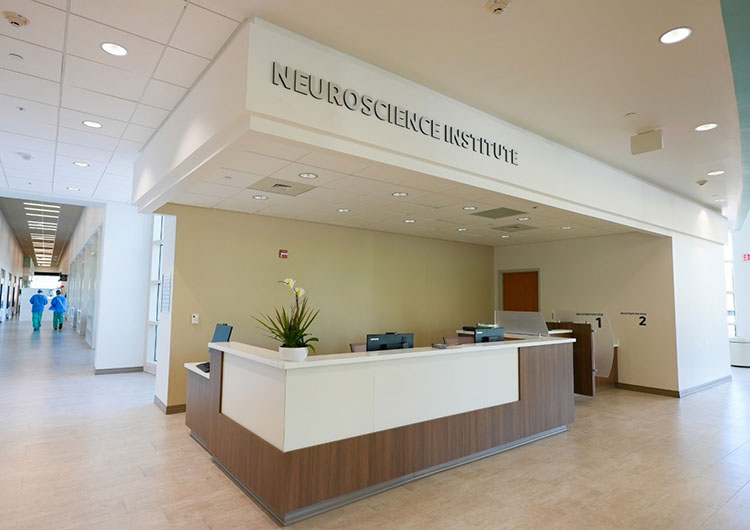 Mar 6, 2023
• 3 min. read
| By Lynda Van Kuren
Opened earlier this year, Novant Health New Hanover Regional Medical Center's new Neurosciences Institute provides state-of-the-art brain, spine and neurological care. (Photo courtesy of Novant Health New Hanover Regional Medical Center)
When a person has a stroke, they need to be treated in record time by neurological specialists with access to advanced technologies. Novant Health New Hanover Regional Medical Center's new Neurosciences Institute provides all that and more.
The Neurosciences Institute, which opened on Jan. 25, provides comprehensive stroke, brain, spine and neurological care. It's a hospital within a hospital that houses a stroke center, two intervention suites, four neuro operating rooms and 108 beds.
The facility brings a much-needed service to New Hanover County and its surrounding counties, in part because the area has such a high number of retirees.
"We have a high population of patients that are at risk of having a stroke, and therefore, time-sensitive, life-threatening illnesses here," said Dr. Jeffrey Beecher, the Neurosciences Institute's coastal market director of neurosurgery. "As we get older we are at a higher risk for stroke, whether it's due to blockages in the carotid arteries, irregular heart rhythm, atrial fibrillation, a clot, or brain hemorrhages. As we get older, we get more fragile and are at higher risk."
Patients who are treated at the facility are under the care of a high-caliber medical team that includes neurohospitalists, neurointensivists and neurosurgeons who are on call 24/7, 365 days a year. Unlike in some hospitals where patients are routinely seen by residents or interns, the Neurosciences Institute's patients are always seen by a neurological attending physician, Beecher said.
"Without fail, you are getting the highest level of care that can be provided," Beecher added. "You have me or my team treating you all the time."
Even the nurses and support staff have special training in neurological disease, which further enhances patient care. Rather than waiting until they receive a doctor's orders, the facility's nurses evaluate situations and immediately begin the appropriate treatment – time-saving steps that could be critical when dealing with a brain or spinal problem.
The Neurosciences Institute is also outfitted with state-of-the-art technology. There's a portable CT scanner, with which physicians can get images without moving critically ill patients, as well as 3D exoscopes and other advanced technologies that enhance a surgeon's view of the area they are working on while minimizing exposure of the brain or blood vessels during surgery.
"Anything that gives better visualization and is a factor in processing time and leads to minimally invasive surgery is better," said Beecher. "There's less anesthesia, less blood loss, less exposure during surgery. The more we minimize these things, the better the outcome for patients, especially as they get older."
There's another, less tangible benefit to having the Neurosciences Institute here in Wilmington: area patients with neurological disease can get advanced care without incurring the expense and inconvenience of traveling to Raleigh or Durham. Also, family and friends can support these patients throughout their treatment and rehabilitation, which Beecher said is paramount to their physical and emotional recovery.
The facility will keep adding to its therapies and services. Plans to provide "brain pacemakers" to patients with Parkinson's disease and tremors and surgery for patients with epilepsy and other seizure disorders are in the works.
"What we are doing here is outstanding," said Beecher. "Having this facility here will have a major impact on patients who have a serious neurological disease."