Burgaw Brewing readies for St. Patrick's Day debut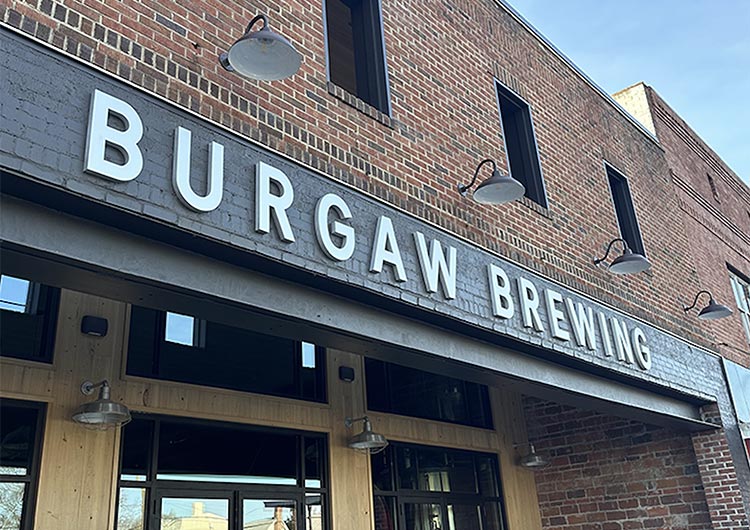 Mar 8, 2023
• 4 min. read
| By Miriah Hamrick
Years in the making, Burgaw Brewing will open later this month. It will be Burgaw's first brewery. (Photo courtesy of Burgaw Now)
Craft beer and diner-style burgers will soon join the growing list of provisions available in downtown Burgaw with the long-awaited opening of Burgaw Brewing at 103 S. Wright St.

With just a few final tasks left before the doors will open on March 17, owner Kevin Kozak said he is eager to satiate the local appetite for something new in the small town.

"I think the people of Burgaw have been hankering for a place that we're about to open, a place where you can get a pint of beer made in-house and a good sandwich at a reasonable price," he said.

The brewery plans to open for St. Patrick's Day with a limited menu to start. All of the business's 12 taps will initially feature guest brews from the region, with Kozak's creations trickling in as they finish their weekslong transformation in the brewery's 10-barrel system. Kozak expects the draft list to showcase classic styles including a handful of light, crisp German lagers.

While these beers are easy to drink, Kozak noted that they're difficult to make. A brewing industry veteran with nearly 20 years of experience under his belt, including 13 years at Front Street Brewery, he said he enjoys the challenge inherent in brewing this family of styles.

"You don't have much to hide behind," Kozak said. "Any little mistake might come through pretty glaringly, whereas with some other styles of beers, you can cover it up with a ton of alcohol or a ton of hops or other flavorings."

Luckily, Kozak has found the water — one of a few simple ingredients used to brew lagers — of both Burgaw and Wilmington to be ideal for crafting his preferred German styles.

"It's very soft water. It's very manipulative water. It's very easy to work with," he said.

The ever-popular India Pale Ale will also feature on the tap list, as will a blueberry brew crafted with local fruit and honey, which Kozak intends to unveil in time for the N.C. Blueberry Festival in June.

The brewery will offer a menu that Kozak characterized as "accessible, but good pub food." Alongside traditional gastropub starters like nachos and wings are original options like cheesy country ham dip topped with chopped pecans.

For something more substantial, guests can order the Burgaw burger, served with up to four patties and loaded with all the fixings on a brioche bun. The short rib hoagie is another original offering with braised short rib, Granny Smith apple slaw, jalapenos and pickles tucked inside a toasted hoagie roll.

In addition to food and drinks, the brewery will also unveil its renovation of the historic building on South Wright Street when it opens. Kozak said it was important to preserve the 1940s-era building's historic charm, from the newly restored tin ceilings to the exposed brick walls, the latter of which he described as "striking."

"It was imperative that we save that as much as possible and let it shine," Kozak said.

The warm, vintage vibe is continued with weathered tin and wood accents throughout the space as well as a salvaged chalkboard on one wall, which will feature a rotating selection of work from local artists.

On top of about 150 seats inside, the business will also offer outdoor seating in a beer garden located beside the building.

Kozak, who is undertaking the project with his wife Emmaline Kozak, said he is excited to share the final product with his neighbors in Burgaw.

"We think it's a really warm, welcoming place and I think people are going to be pretty impressed with the layout of it," he said.

To bring the brewery to life, the Kozaks have worked with Burgaw Now, an organization focused on revitalization of the small town under the helm of local entrepreneur Richard Johnson. In addition to Burgaw Brewing, the group facilitated the 2020 opening of Fat Daddy's Pizza, and a third project is slated to pop up on Courthouse Avenue as a result of this year's Own Your Own competition.