Wild oyster season brings wave of options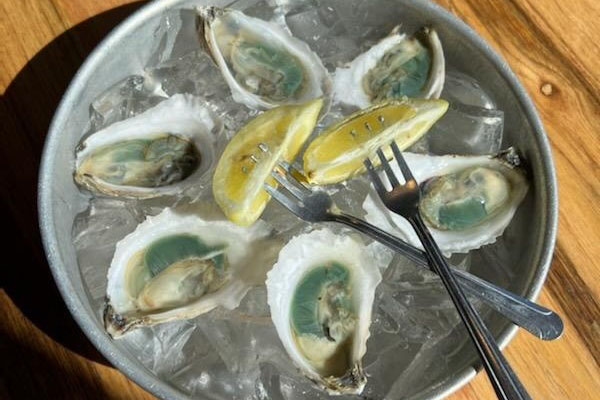 Sep 28, 2022
• 6 min. read
| By Miriah Hamrick
Green gill oysters are on the menu at Wrightsville Beach Brewery. (Photo courtesy of Wrightsville Beach Brewery)
Oct. 15 marks the start of a shucking good time in Southeastern North Carolina: wild oyster season. The state's public waters open for cultivation of the beloved bivalve that day, and depending on tide cycles and weather patterns, wild oysters will pop up on area restaurant menus and in seafood markets the following week.
Wild or farmed, oysters absorb the flavors of the water where they grow, and coastal North Carolina's mix of salty and fresh waters provides a particularly rich environment for them. Dean Neff, owner of Seabird and James Beard Foundation-award-winning chef, has heard the area called the Napa Valley of oysters. Indeed, Neff compared experiencing the differences in local oysters to wine.
"It's kind of like experiencing wine," said Neff. "It's all about seasons, the farming practices. All of that changes everything about the taste of oyster, the meatiness of it. There's a lot to it."
Merroir is the term among oyster fans to describe how oysters take on the flavor profile and qualities of the waters where they were grown, according to Erin Fleckenstein, coastal scientist with the N.C. Coastal Federation. Fleckenstein pointed out that oysters are more than a tasty treat for coastal residents, though. They are a crucial feature in North Carolina's coastal ecosystem by providing habitat for fish and filtering sediments and algae from the water.
While the state's wild oyster population has declined, the rise of oyster farming has ensured that the mighty mollusk continues to serve these functions along the coast as well as shoring up the supply of local oysters for area restaurants.
"People really love them and have a deep affinity for them, so our oyster farming industry has helped to fill that demand," said Fleckenstein.
EAT OUT
For those eager to enjoy the bounty of the season, Wilmington restaurants offer a variety of options that include local farmed oysters as well as wild varieties once public waters open for harvest.
Seabird in downtown Wilmington typically highlights three raw varieties for guests to try, including a wild option when wild oysters are in season, Neff said. The restaurant works with local foragers to source oysters from around Masonboro Island and Figure Eight Island, which he described as saltier compared to their farmed counterparts.
Neff's recommendation is for guests to order a plate of a dozen raw oysters at Seabird, which comes with four of each of the three highlighted varieties. This allows guests to taste for themselves the differences in local oysters based on their merroir, he said.
"To me, that's one of the coolest parts about it because it is so relative to season, the care that goes into farming practices, whether the tide was going in or out when harvested. There are so many little things that play into the flavor, the meatiness of them," said Neff.
This experience is available regardless of whether wild oysters are in season, Neff noted, but wild oysters do bring a sense of novelty.
"Oyster season is great, and it adds some fun elements to the mix, but there are a lot of great oysters here year-round and a lot of great people who are doing really cool things farming them," said Neff.
A few storefronts away from Seabird on Market Street, PinPoint Restaurant offers a similar option for guests to try wild oysters alongside farmed local oysters. Oysters and wine are half-priced on Monday evenings, and during oyster season, both wild and farmed varieties qualify for the special, confirmed PinPoint manager Nate Fabian.
Recently, Fabian noted, the restaurant's chefs have enjoyed experimenting with mignonette, the classic vinegar-based condiment for raw oysters, by replacing vinegar with sour beer from local brewery Broomtail Brewing.
Closer to the coast, Wrightsville Beach Brewery offers oysters from two local farms year-round, including green gill oysters. The oysters are harder to find around Wilmington, according to general manager Keith Sincavage, but present a special experience for guests.
"The flavor is particularly briny and they're pretty," said Sincavage. "They're really cool to look at."
To kick off oyster season, Wrightsville Beach Brewery is offering a half-dozen oysters from two local farms for $15 for NC Oyster Week Oct. 10-16. Steamed and raw oysters will also be on the menu Oct. 22 for Oysterberfest, an event that merges the German beer festival with a celebration of the fall oyster harvest.
EAT AT HOME
Another option is buying wild oysters from a local seafood market to enjoy at home. For most local suppliers, inventory of wild oysters will start to accumulate the week following Oct. 15 with peak availability beginning around Halloween, according to Sammy Flowers, owner of Eagle Island Fruit & Seafood.
Eagle Island sells wild oysters six days a week during oyster season, and once they hit peak availability, Flowers advises customers to come early on Saturday mornings.
"On Saturdays, we start washing oysters at 8 a.m., so the earlier, the better. If you get here around noon or so, you're usually standing in line," Flowers said, adding that oysters usually sell out on Saturday afternoons.
At seafood markets, oysters are sold by volume instead of amount, which can be tricky for those new to buying oysters. A peck or quarter-bushel is typically the smallest volume sold, with half-bushel and bushel options also available. Flowers recommends a peck for two people.
Seaview Crab Company offers the same volume options at their seven retail locations across the Wilmington area as well as a half-peck, which general manager Jonathan Oracion estimates as about two dozen oysters. Seaview offers three types of wild oysters: single select, standard and clusters.
"We have single selects, which are the biggest and meatiest oysters. Then we have standards, which are a little bit smaller single oysters," said Oracion. "Cluster oysters tend to be the saltiest, but they're all clustered up, so you've got to do a bit more work but they're pretty good, too."
Lambert Long, whose family owns Motts Channel Seafood in Wrightsville Beach, recommends clusters as a good option for oyster roasts.
"You just about have to roast or steam the clusters. They're usually more brittle, so they're harder to open raw than a single oyster," he said. Long does recommend clusters to customers looking for a deal, as they tend to be about 25% cheaper than singles at Motts.
Empty shells can be returned to Eagle Island or Seaview's Carolina Beach Road location, in addition to other spots around Wilmington, for recycling. Fleckenstein noted that state law prohibits disposal of oyster shells in landfills.
"We encourage everybody to recycle their oyster shells so that they can be put back to use, growing more oysters," said Fleckenstein.

For more information about oyster offerings in the Wilmington area, visit ncoystertrail.org.