On-demand caregiving now available in Wilmington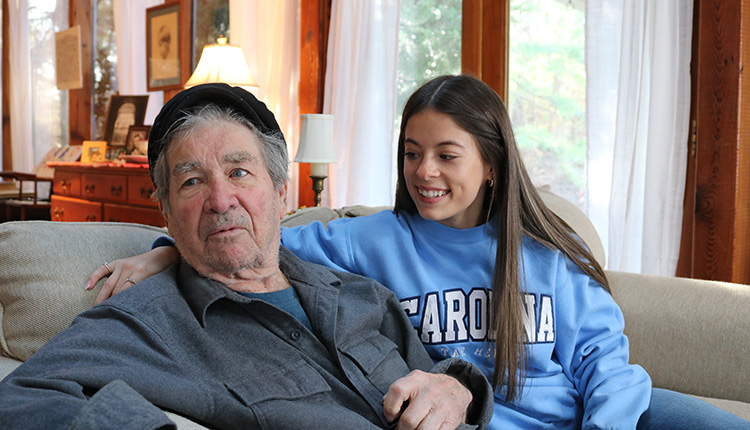 Jan 31, 2023
• 4 min. read
| By Laura Moore
University of North Carolina student McKenna Graf, pictured with Raymond Williams, is one of the caregivers available through CareYaya, an app similar to Uber or DoorDash that allows people to book caregiving services with local pre-health college students. (Courtesy of CareYaya)
For this on-demand society, Neal Shah has created a service that meets a much-needed demand in the caregiving sector while providing experience for students working towards careers in health care.
Based out of Research Triangle Park, CareYaya launched in late 2021 to provide an affordable caregiving option through a web-based app. Now, the service has expanded to the Wilmington area.
CareYaya, like Uber and DoorDash, provides a service at one's fingertips, connecting those in need of companionship, housekeeping, meal preparation, or grooming with personalized, quality caregivers from area colleges and universities.
Those in need of care, either for themselves or for their loved ones, can use the app to request care in less than two minutes and provide vetted care from a local student studying health care.
"Caregivers can provide companionship for mom or dad, help with daily tasks, meal prep, help with laundry or mobility, help with getting around, perhaps it is just a walk around the neighborhood. They are matched with our pre-health students, just book the number of hours you need and it is super affordable," Shah said.
Care through CareYaya is only $15 an hour with no fees or minimum hours, which is affordable compared to most local care agencies that charge $30 an hour and require a minimum of 20 hours per week.
When booking a CareYaya caregiver, the user needs to select the dates and times that are needed, choose whether they prefer a male or female provider, and indicate which services are needed.
"A tech-first solution like CareYaya is preferred by the younger demographic of caregivers," Shah said. "When it comes time for these folks to take care of their aging parents, they want an online solution that's fast, reliable, has reviews and quality assurance, robust system of tech-enabled booking, notes-taking, and online payments."
All student caregivers have had background checks, gone through an onboarding process to ensure emotional empathy and had their status as a student at a current university verified.
After dealing with his own health care challenges caring for ill loved ones, Shah saw the need for quality and affordable caregiving options and decided to build CareYaya to fill the need.
"I became obsessed with fixing this problem for those who can't afford the help or do not like the quality," Shah said. "A lot of people in midlife are taking care of an ill spouse or a parent and in this age of Uber, on-demand delivery, why not a high quality, convenient way to help people?"
By using a care network of college students who plan to go into health care, CareYaya gives them relevant experience and a way to give back to the community while making money to fund their education.
"Many of these students were doing food delivery because they couldn't commit to full-time work, but what a waste of talent," Shah said. "Now, they can, in a DoorDash, Uber-like way, make use of their skills in a way that works around their schedules."
"There is a massive shortage of eldercare workers and this need brings thousands of college students into the workforce," Shah explained.
The app uses GPS technology so caregivers can be tracked to the minute so users know when they will arrive.
"CareYaya addresses an affordability issue as well as the health equity and health disparity component. This can serve a lot of people who can't afford an agency," Shah said. "Over thousands of care sessions so far – it's heartwarming to see CareYaya help build lasting relationships between college students and the older generation. We call the students on the platform 'Joygivers' – they truly bring joy into the homes of the elderly."
The CareYaya platform is up and operational to request care now in Wilmington.