Chicken Salad Chick poised for scoop of southern market with new Leland location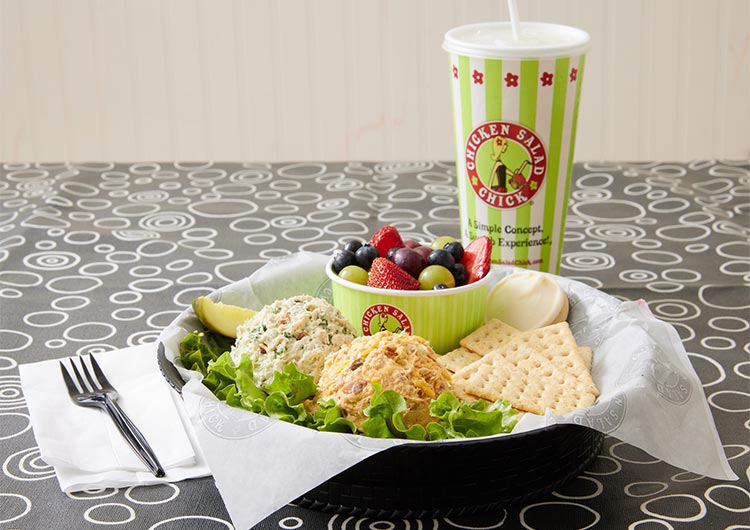 Apr 5, 2023
• 3 min. read
| By Miriah Hamrick
Local franchisees Haley and Shane Pinder will open their second Chicken Salad Chick in Leland later this month. (Photo courtesy of Chicken Salad Chick)
More than a year in the making, Chicken Salad Chick will become the latest Wilmington eatery to expand into Leland following an April 12 grand opening at 503 Olde Waterford Way.

Following a ribbon cutting with franchise officials and representatives from the local chamber of commerce at 9:30 a.m., the restaurant will officially open its doors at 10:30 a.m. on April 12. The first 100 customers in line that morning will win a year's worth of free Chicken Salad Chick, disbursed through the eatery's online app, as long as they remain in line until it's time to place an order.

"We'll get their information and they download the app, and then we load those free things every month on that app for them," said Haley Pinder, who operates the franchise in both Wilmington and Leland with her husband, Shane Pinder.

The 2,500-square-foot Leland store is smaller than its Wilmington counterpart, with seating for between 80 to 85 people, although it offers a key feature missing from the Military Cutoff Road location: a drive-thru.

"It's a little bit smaller down in Leland, but that drive-thru is going to be rocking," Haley Pinder said.

Nearly two-thirds of the Wilmington store's business is generated from takeout and delivery orders, Haley Pinder noted.

"When you're in the Wilmington Chicken Salad Chick at lunchtime, it's pretty full inside. And so to think that 68% of that business is purely takeout or third-party delivery, it kind of puts it in perspective," she said. "So we're eager to see how Leland is going to either be the same or different."

The Leland location will also stay open an extra hour – until 8 p.m. In Wilmington, the restaurant is one of many evening options at Mayfaire and the Forum, Haley Pinder said. As that's not the case in Leland, she expects the eatery could see later business in Leland.

"There's just not the same amount of options there, so hopefully we'll have a dinner crowd and they'll come a little bit later in the afternoon," Haley Pinder said.

While the restaurant's lighter fare tends to be popular at lunch, Haley Pinder teased a forthcoming addition of "warm sandwiches" to Chicken Salad Chick's menu that could help the business attract more evening customers.

"I think we've found something that's really neat, brand-wide, that they're going to roll out at the end of the summer or beginning of fall," she said.

Classic Carol, with finely minced celery, secret seasonings and mayonnaise, is the top-selling selection of the restaurant's 12 varieties of chicken salad, according to Haley Pinder. Other popular choices include Olivia's Old South, a nod to the traditional southern style with sweet relish and boiled egg, and Fancy Nancy, a fruity choice flecked with apples, grapes and pecans.

All of the eatery's salads and sides – which, Haley Pinder noted, include pimento cheese and egg salad for vegetarian patrons – are made in-house. For the chicken salad, this process includes steaming and shredding fresh chicken tenderloins daily.

"We only use the freshest, most expensive part of the bird, which is all white meat, shredded chicken that's steamed every day," Haley Pinder said.

Located at 503 Olde Waterford Way, Suite 104, the Leland Chicken Salad Chick will be open Monday through Saturday from 11 a.m. until 8 p.m.