Nearing completion, Olivero to celebrate food, family history of award-winning Raleigh chef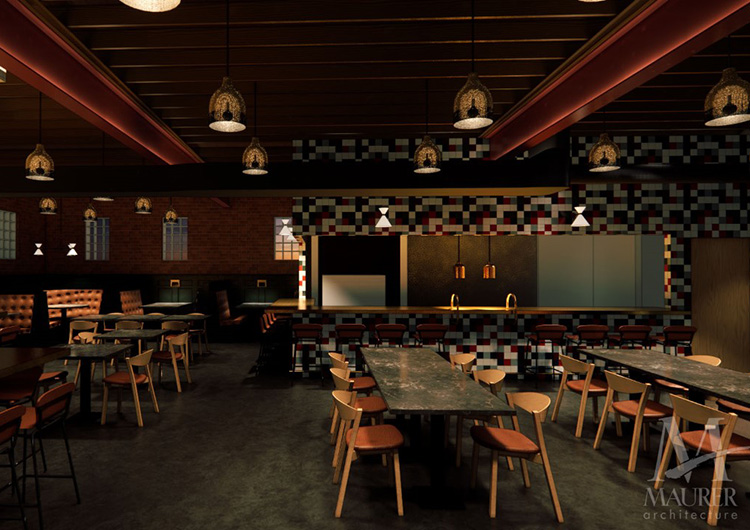 Mar 15, 2023
• 4 min. read
| By Miriah Hamrick
With the renovation of the space at 522 S. Third Street nearing completion, Olivero plans to open in May. (Rendering by Maurer Architecture/Courtesy of JNK Public Relations)
This spring, Wilmington will net another restaurant helmed by a James Beard nominee with the opening of Olivero at 522 S. Third St.

Housed in a 1940s-era historic building at the corner of Castle and Third streets, Olivero will mark the second restaurant opened by Sunny Gerhart, a nominee for Best Chef Southeast in the 2022 James Beard Awards who also owns St. Roch Fine Oysters + Bar in downtown Raleigh.

The project marks a return of sorts for Gerhart, who christened the restaurant with his mother's maiden name in a nod to both his family's cultural history and the cultural history of his native New Orleans, a place that inspires his approach to food today. As such, Olivero's menu will explore the influences of Spanish and Italian traditions on the food of New Orleans.

More literally, Gerhart is returning to a place where he once lived. When he was a teenager, his family moved from New Orleans to southeastern North Carolina, where his father was stationed in the Marines. This was where he started his career in restaurants following the sudden death of his father. Gerhart said he always wanted to find a way to spend more time in Wilmington, but the opportunity was never right – until one day when he learned of the spot off Castle Street, and suddenly it was.

Wilmington feels like a good location for this project, Gerhart noted; like the French Quarter from where his family hails, it's an old port city, nestled on the water with quaint cobblestone streets.

"It has a little bit of those French Quarter vibes," he said.

As the name implies, the menu at Olivero will lean more into Spanish and Italian cuisine than the kind of dishes commonly associated with New Orleans, like jambalaya or etouffee.

"It's going to be a lot more Italian and Spanish influence, and some little flourishes of New Orleans that poke their head in and say hi," Gerhart said.

Homemade pasta will feature prominently, providing a vehicle for Gerhart to weave in flavors and textures from meat, seafood and vegetables prepared on a wood-fired grill. The goal, he said, is for the final product to be simple, approachable and delicious.

"I like classic things, but giving them a little bit of our twist," Gerhart said, adding that while he enjoys the opportunity to be creative, "at the end of the day, it's about executing things and making people feel comfortable and building some trust."

Like the food, Gerhart said his goals for a renovation of the 2,400-square-foot building were to work with the space's simple footprint and "good bones," which include plenty of windows, exposed historic masonry and 12-foot ceilings.

"We kind of live in a culture where things tend to get thrown away and rebuilt. I like that this is the space that we had to work with, so let's keep as much of it intact and use it," Gerhart said.

The interior will be warm and vibrant with layers of texture from exposed historic bricks, burnished brass countertops, artisanal wallpaper from a Swedish atelier, dark brown leather upholstery and an accent wall of Moroccan mosaic tiles in dark, rich shades of green and red.

Although small, Gerhart said the newly renovated restaurant will offer "different pockets of experience" for guests. A cocktail bar at the front of the restaurant will be lighter and airier, with big windows that overlook the street. The back section of booths will be a little darker and moodier, designed to offer a more intimate atmosphere. A second bar located by a wood-fired grill will give diners a view of the kitchen at work.

"If you want to come in right after work and you're driving by, if you want a rad bowl of pasta and a glass of wine at the bar, you can do that," Gerhart said. "If you want to have a little bit more of a coursed out, curated meal, you can do that as well. I think there's going to be different options for people."

With work on the building nearing completion, Gerhart said he hopes to open Olivero by Memorial Day weekend.

"I'm ready to get down there and be in the kitchen every day," he said.