New Wilmington band brings the heat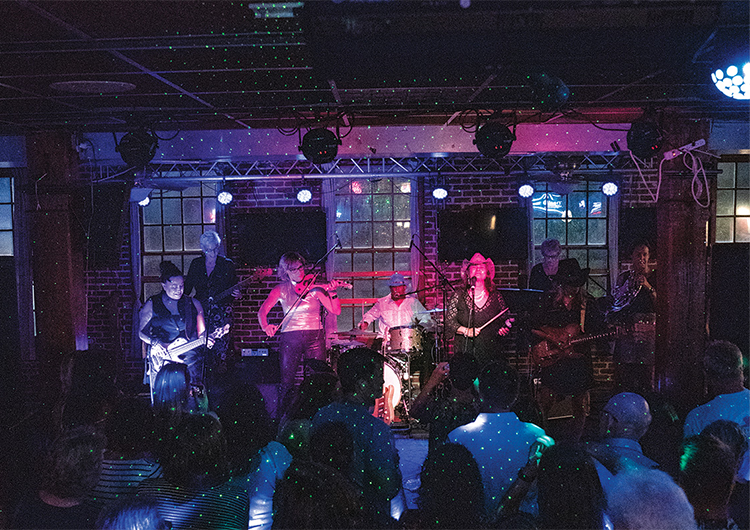 Aug 30, 2023
• 6 min. read
| By Elizabeth White
The Hot Flashes is a new musical group of eight women, all ranging in age from their fifties to sixties, earning a reputation for fun, upbeat performances. (Photo by Allison Joyce)
When one thinks of hot flashes, it is usually linked with dreaded hormonal changes and that stage of life. With the Wilmington group, The Hot Flashes, it is quite the opposite.
Spending an evening with these Hot Flashes may involve finding oneself at a bar, having some drinks with friends, (and maybe table-top dancing) while listening to a mixed bag of music ranging from rap to country to alternative/modern.
On stage performing would be a group of eight women ranging in age from their fifties to sixties. Did they ever think they would be up on a stage performing at their age? No. That is what makes The Hot Flashes truly a sight to see, and especially, to hear.
Most of the members of The Hot Flashes met through the Loud Music Company, a music store at 5500 Market St. With a nudge from co-owner Michael Cole, the women were asked to come to a jam session. Upon hearing them perform, Cole told them, "You all actually don't suck." At that moment, the band was – to Cole at least – born. Not so much the women, who had never intended to be in a band.
Next came a "promise" from Cole that the women would never have to ever play in public.
"He tricked us all," said member Margaret Pierson jokingly. Cole explained that it wasn't so much a "trick, but more that I left out some critical details." He suggested calling the group the "I Don't Wannas" because of their initial hesitation about performing.
Three weeks later, The Hot Flashes made their debut at Seven Mile Post. Now, eleven songs and multiple gigs later, they are convinced The Hot Flashes "will soon be untouchable."
Here is who makes up The Hot Flashes:
TINA LANDON: Choreographer and artistic director by day and bass player/singer by night. Landon, who is married to Cole, opened Loud Music Company in Wilmington with him a couple of years ago. Both are music industry veterans. During her career, the Emmy-nominated Landon worked on choreography for major artists including Janet Jackson, Jennifer Lopez, and others. Initially, with The Hot Flashes, Landon was asked to fill in for an original band member. "I tried learning to play bass thirty years ago but wasn't very good," she said. When the need became permanent, "I looked at the members' sad, pathetic faces and agreed."
Favorite song to play: Beggin'; "Because it hits so hard and has such high energy," Landon said. "But I also love Here for the Party because Val sounds fantastic on it, and it's a huge challenge for all of us."
MARGARET PIERSON: Doctor by day and violinist/drummer by night. Pierson took violin lessons as a kid but had never played the drums before. Now a drum set sits in the center of her house. She purchased the instrument in Raleigh after dropping off her middle child for her sophomore year of college. "My house was getting way too quiet," she said. "It was time for a new hobby, and my kids weren't going to need me as much anymore."
Favorite song to play: Beggin' (closing song)
LYNDA GRAUBERT: Semi-retiree during the day and bass guitar player by night. Graubert plays for a blues/rock band outside of The Hot Flashes and played in a band in New York City. She auditioned for the group after the existing members saw some videos of her playing.
Favorite song to play: Hard by Rihanna; "I thought I would be playing a lot of classic pop," she said. "Boy, was I wrong!"
TERRY EPSY: Real estate broker by day and keyboard artist by night. Espy has sung backup for the likes of Kenny Rogers. When telling her adult son about the band, he remarked, "Sounds like it will all be Motown-type stuff," referencing their ages. Espy laughed, feeling proud she knows the lyrics to Rihanna and Bruno Mars songs now. "My music world has definitely expanded," she said.
Favorite song to play: Here for the Party; "I am usually not a fan of country, but Michael promised his arrangement would convince me. Now, it is one of my favorite songs."
VALERIE WEBSTER: Retiree by day and singer/drummer by night, Webster took violin lessons as a kid and started taking drum lessons at the age of fifty-nine. She never thought she would be in a band. "But after the first night jamming together with the ladies, I was hooked," she said.
Favorite song to play: Beggin'; "We put a twist on it, and I get to be creative on the drums."
JENNIFER HARJO: Chief public defender by day and guitarist by night. Harjo has no professional music experience and met her bandmates at a practice at Loud Music Company.
Favorite song to play: Here for the Party; "It is my favorite song our band plays," she said. "But I am a Dead Head at heart."
SARAH HALLENBECK: UNCW English professor by day and French horn player by night. Hallenbeck played the horn in high school and never thought she would be in a band like The Hot Flashes. "The horn is not a typical rock band instrument," she said. When asked to join the group, "I thought they were just joking," she said. "I was really just at (Loud Music Company) to pick up my ten-year-old son from his guitar lesson."
Favorite song to play: Locked Out of Heaven by Bruno Mars; "I feel like the horn part just works well with that song."
MARIA TRIOLO: Health insurance agent by day and lead singer/cowbell player by night. Triolo moved to the area a few months ago, and her daughter – who works at Loud Music Company – convinced her to take some lessons to meet new people. "Nobody had really heard me sing outside my house or in my car," she said. "I was a nervous wreck at the first performance, but these ladies are so great. We all support each other."
Favorite song to play: I Gotta Feeling by the Black Eyed Peas