Stage presence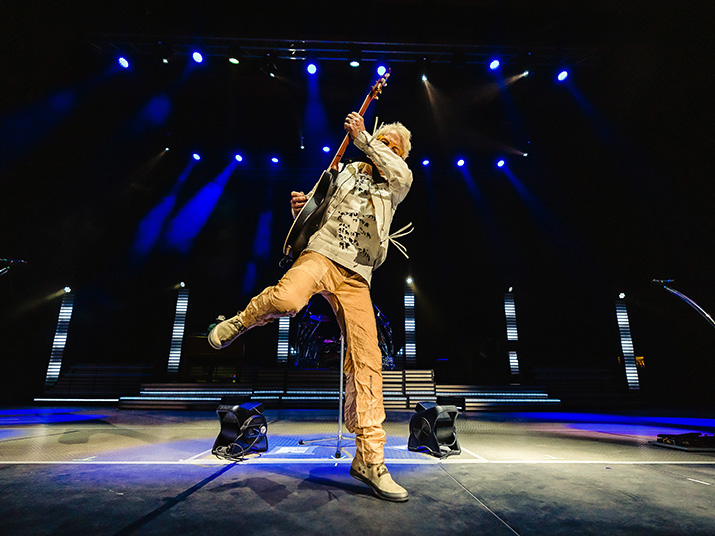 Jun 29, 2022
• 5 min. read
| By Fritts Causby
REO Speedwagon's Kevin Cronin at Live Oak Bank Pavillion during the 2022 Azalea Festival (photo by T.J. Drechsel)
The Wilson Center and Live Oak Bank Pavilion are consistently bringing high-level talent to Wilmington. Now, it's no longer a necessity to find a vacation rental or hotel in a far-away city if seeing live acts such as Widespread Panic, ZZ Top, Diana Ross, The Doobie Brothers or touring Broadway productions is the goal.
"Without question, the Wilson Center and Live Oak Pavilion have elevated the arts in Southeastern North Carolina, offering unique experiences in two unique settings," said Rhonda Bellamy, executive director of the Arts Council of Wilmington and New Hanover County. "The grandeur of the Wilson Center, coupled with an ambitious Broadway series and robust calendar of local and national acts, rivals cities several times our size. Similarly, how many cities can boast having the Cape Fear River as the backdrop for a 7,200-seat amphitheater? Both facilities have helped establish our region as an arts destination."
USHERING IN NEW SHOWS
Cape Fear Community College opened the Wilson Center, with more than 1,500 seats, in late 2015. Officials call it the most technologically advanced theater in the eastern part of the state.
"We are constantly reinvesting our earnings back into the building, to ensure that we can continue to offer the broadest range of talent possible, with the highest level of quality possible," said Shane Fernando, vice president of advancement and the arts at CFCC.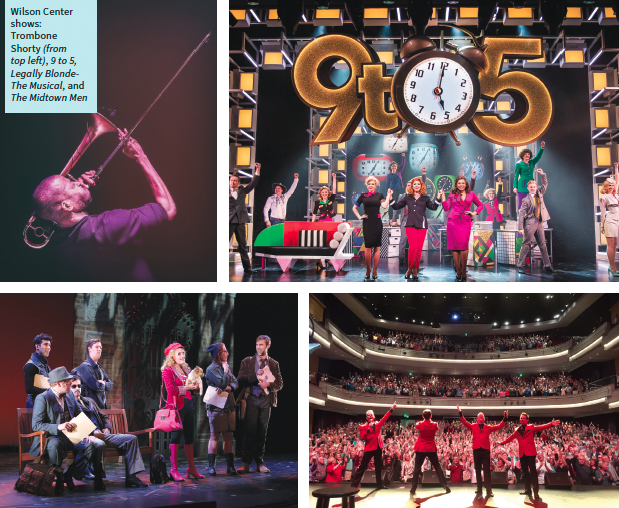 The popularity of the comedy acts, musicians and theater performances may serve as an indication of the success of the venue.
A few highlights for the rest of 2022 include stops by well-known performers such as Pat Benatar, the Blue Man Group, "Weird Al" Yankovic, Jason Isbell and Trombone Shorty. Musicals including Tootsie, On Your Feet and Anastasia make up this year's touring Broadway slate, with crowd favorites Annie and The Book of Mormon slated for next spring.
With about 300 events a year, the Wilson Center's schedule has returned to pre-pandemic levels. "Around 30 percent of our ticket sales were to buyers from out of town," Fernando said.
"In just the first six months, we entertained guests from all 50 states and every continent except Antarctica."
AMPHITHEATER ACTS
The $35 million Live Oak Bank Pavilion – paid for mostly by the city of Wilmington but including $4 million from venue manager Live Nation – opened with fanfare in July 2021 as the centerpiece of the city's new Riverfront Park along the Cape Fear River.
The economic impact created by Live Oak Bank Pavilion, which celebrated its opening with three sold-out shows by Widespread Panic, has already been significant. The city receives $2 from each ticket sold at the 7,200-seat concert venue, as well as $200,000 in yearly rent from Live Nation.
"We can't wait to kick off our second season at Live Oak Bank Pavilion," Live Nation general manager Ryan Belcher said. "This year's lineup has something for everyone. We are featuring a wide range of genres."
This year's calendar is filled with top names such as Josh Groban, Rainbow Kitten Surprise, Darius Rucker, My Morning Jacket, Nathaniel Rateliff and The Night Sweats and more.
"We're able to secure notable acts by leveraging our extensive industry and touring relationships while utilizing our knowledge of the region," Belcher said. "Wilmington is also a big draw for bands and live music fans."
BEYOND THE HEADLINERS
While Live Oak Bank Pavilion and the Wilson Center are the largest and newest entertainment venues for the area, other stages from Thalian Hall to Brunswick Community College's Odell Williamson Auditorium to UNCW's Kenan Hall have been used for years to stage local productions and national names, just with smaller seating capacities.
The arts, Bellamy pointed out, have been an active part of the area.
In 2015, the arts council was the local organizing partner for an Arts & Economic Prosperity study on the county – before Wilson Center and the amphitheater factored in.
"We will launch the next study in May and update the numbers, which, in 2015, showed an economic impact of $55.8 million, supporting the full-time employment of 2,076 jobs and generating $5.6 million in local and state tax revenues, not including the cost of admission," Bellamy said about the impacts of arts and cultural organizations and audiences in New Hanover County.
Recognizing that the arts are not only a valuable economic driver but also a major cultural benefit to those who live in or visit the Wilmington area, Fernando and his team have worked to make the Wilson Center a lab for student learning.
"We focus on experiential, hands-on learning here," he said.
It is not just about providing CFCC students with a chance to perform on stage. There are many roles, tasks and responsibilities that need to be taken care of to effectively pull off a show; graphic design, carpentry, welding, physical therapy, hair and makeup, set design and A/V management are just a few of the on-the-job learning opportunities provided to students. Each event requires a staff of about 200 to make it happen, and students always make up a portion of the crew.
"Our major focus is on providing access so students can learn," Fernando said. "We waive the base rent for school systems, something that is very unusual for a touring house of our size."