Helping hands: Sowing the seeds for success at Airlie Gardens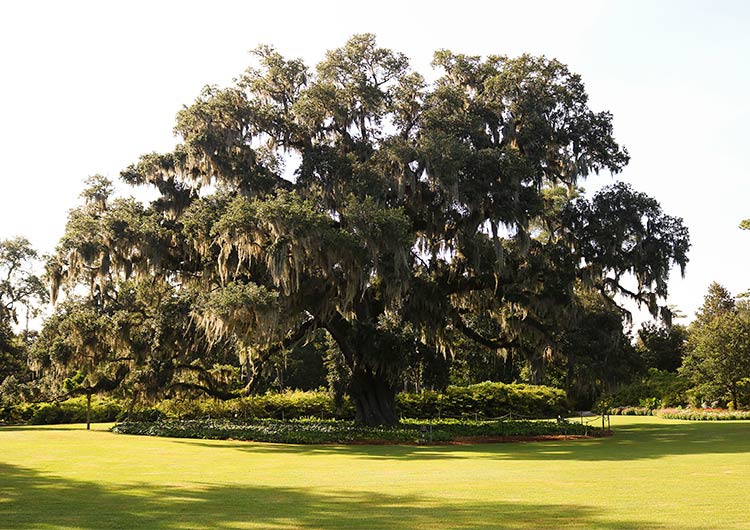 May 17, 2023
• 3 min. read
| By Beth A. Klahre
The Airlie Oak, estimated to be nearly 500 years old, is one of the features at Airlie Gardens that often hook visitors to become volunteers. (File photo by Terah Hoobler)
Editor's note: Helping Hands is a recurring feature that spotlights volunteer opportunities for older adults across the Wilmington area.
One walk through Airlie Gardens' 67 acres of formal gardens replete with butterflies, native Carolina wildlife, ten acres of lakes and the centuries-old Airlie Oak is all it takes to hook many of the volunteers who help keep the site operational.
"Many of our volunteers signed up after they had visited the gardens," said Janine Powell, director of donor relations. "They fall in love with Airlie and want to help in any way they can."
Airlie Gardens relies heavily on 300 talented and hardworking volunteers. "We have a small staff and our volunteers help us do everything from events to grounds. Volunteering at Airlie is not only rewarding, but you are volunteering in one of the most beautiful places in New Hanover County. Our volunteers' work impacts thousands of visitors and members every year," added Powell.
There are many ways to volunteer at the gardens. Gift shop volunteers are responsible for selling merchandise, stocking shelves, selling memberships and admissions, and orienting guests. Some volunteers drive accessibility trams for guests who wish to be transported through the garden. Garden ambassadors educate guests about butterflies and pollinators as well as history and horticulture.
Event volunteers assist with concerts and special events including Free Day, Oyster Roast, Family Fun Night and Enchanted Airlie. These volunteers check tickets, greet and guide guests, and assist with parking. Volunteers with an educational background work with curriculum-specific student field trips. Other volunteers gather in the gardens on Wednesday and Thursday mornings at 9 a.m. to weed, mulch, plant and prune. Some of the volunteer positions require training and some require both background and driving record checks.
With the option to work as much or as little as their time permits, some volunteers stick to a regular weekly schedule while others opt to work one special event each year. Volunteers range in age from college-age to octogenarian, and Airlie offers flexibility for volunteers to choose a role that suits their physical abilities. Many active older adults help with special events and groundskeeping. "We work to find the right fit for each volunteer," said Powell. "Some of our volunteers have downsized their homes and miss working in their yards. What better place to fill that void than Airlie? And our oldest volunteer drives the tram."
Eric Blaesing is one of the volunteer tram drivers. He has been volunteering at Airlie for 13 years and was recently appointed to the board. He said, "Airlie is a great asset to our county. It is lovely and beautiful. It is particularly rewarding to see young families with children running around free and safe and to see older people enjoying the tranquility of the garden. Driving the tram is peaceful and rewarding to me. I enjoy seeing everyone so happy."
Powell concluded, "Volunteering at Airlie is a great way to meet new people and make connections."
There are other benefits, too. Volunteers receive free membership when surpassing a certain number of volunteer hours each year as well as shirts and years-of-service pins. Plus, all volunteers enjoy a moment in the spotlight during National Volunteer Week.
To volunteer, fill out an application at airliegardens.org/volunteer or call 910-798-7566 to speak with the volunteer coordinator Bonnie Derks.