Painter of plaques, preserver of history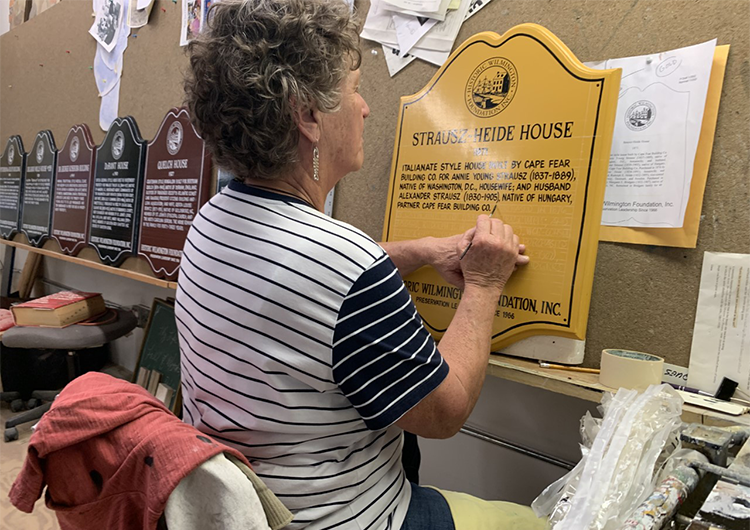 Apr 12, 2023
• 3 min. read
| By Justin Williams Pope
In her work for the Historic Wilmington Foundation's plaque program, Ruth Arnold hand-paints each plaque issued by the nonprofit. (Photo by Justin Williams Pope)
Anyone who has walked around downtown Wilmington has likely seen the work of Ruth Arnold, although they may not recognize it. Since 1992, Arnold has served as the painter for the Historic Wilmington Foundation's plaque program, hand-painting the history of hundreds of historic homes onto each plaque issued by the nonprofit organization.
"I can't tell you how many I have painted over the years. I catalog them and maybe it's over a thousand now," she said with a smile.
Arnold takes her role very seriously.
"We have a duty to preserve our heritage and tell the stories of the past. The folks at the Historic Wilmington Foundation do that so well. I'm just a little piece of that puzzle," she said.
A sign maker by trade, Arnold owns a full-service sign shop, RAGS Signs & Graphics. Looking back at her work making signs and painting plaques, she said she's surprised how her journey into the sign business began.
"It all begins in Swansboro, North Carolina, where I am from. I was hired as a secretary for a sign maker. As a secretary, I wasn't great," she said. Her boss moved her to making signs and the rest is history. So many things have changed since then, according to Arnold. In her early days in the business, the process for making signs was more hands-on, Arnold said.
"That was in the late 1970s. We did not have the computers for sign-making then that we do now. Technology has come a long way," she said.
Arnold channels the old days of the industry when she takes up her paintbrush to create each historic plaque.
The plaques are usually all the same size, and the age of the property determines the color of the plaque: russet brown for those 75-99 years old, black for 100-149 years old, goldenrod yellow for 150-199 years old and sapphire blue for 200 years or older. Once she receives the information about a historic property, Arnold begins making the plaque, first painting it and then lettering a brief summary of the building's past. The lettering and the length of the text determine how many hours Arnold spends on the painting. She admits to being meticulous, so she can sometimes spend hours and hours working on a single plaque.
"We want it to look nice. It's going on someone's home or church or business," she said.
The unique nature of each plaque often requires quiet time for work with no distractions.
"I have a studio at home and sometimes take these with me to the home studio so I can work on them in the quiet," Arnold said.
When Arnold sees the plaques she made adorning the entrance to local businesses, churches and homes, she said she feels proud of her labor of love.
Arnold said, "I am certainly proud of each plaque because hopefully it delights and educates people. I'm glad to be able to do it."
More information about Historic Wilmington Foundation's plaque program can be found on its website.
Correction: This version has been updated to correct a typo in Ruth Arnold's name as it appears in the photo caption.