Helping hands: Art for all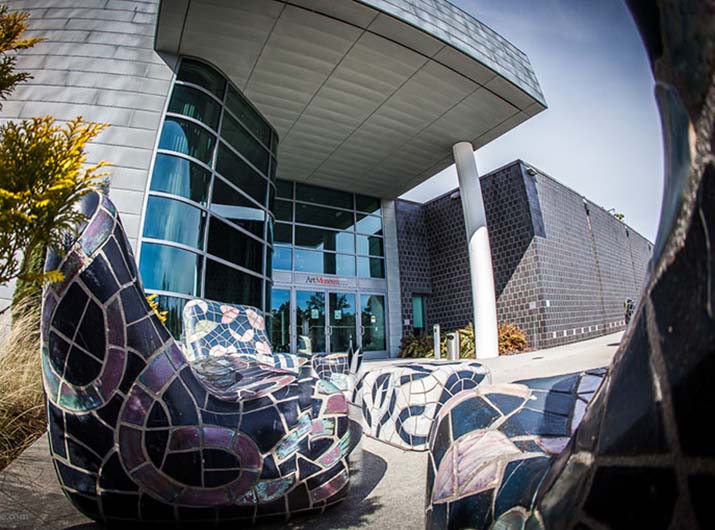 Jan 5, 2023
• 5 min. read
| By Beth A. Klahre
When the museum moved to its current home on 17th Street, it was renamed the Cameron Art Museum in honor of longtime volunteer and arts patron Louise Wells Cameron. (Photo courtesy of Cameron Art Museum)
Editor's note: Helping Hands is a recurring feature that spotlights volunteer opportunities for older adults across the Wilmington area. At Cameron Art Museum, volunteers help bring the museum's mission to engage the community in arts programming to life.
The Cameron Art Museum (CAM) is a cultural gathering place of high-quality exhibitions enriched through dynamic public programs that aim to enhance the community through lifelong learning of the arts. In 2022 CAM reached a milestone of 60 years as a museum, celebrating historical relationships and building new ones. Volunteers play a crucial role in the museum's ability to fulfill its mission, according to volunteer coordinator Nan Pope.
"Volunteers are the bedrock of CAM," said Pope. "They are an extension of our staff onsite and are ambassadors for CAM as they connect with the community in their daily lives."
In fact, the museum's current name is a nod to longtime volunteer Louise Wells Cameron. The museum was established in 1962 in downtown Wilmington where it operated for 40 years as St. John's Museum of Art. Outgrowing the location and thriving on efforts of both artists and volunteers, CAM relocated to 17th Street and was renamed in Cameron's honor.
In 2022, there were more than 200 volunteers ranging in age from 16 through 80, the majority being older adults.
"Seniors fill every position here. Our positions are perfect for older adults," said Pope.
Positions range from public-facing roles like assisting with sales and stocking the museum shop, greeting visitors and members at Visitor Services, and serving as an usher during special events, concerts, performances, lectures, and artist talks. Volunteers assist with CAM's Connections Program, welcoming Alzheimer's patients and their caregivers for special tours and art activities, and with school classes and camps. Some volunteers perform administrative duties including filing, mailings and making phone calls. Researching information online can be done from a volunteer's home. Volunteers work as much as three or four hours weekly or as little as a few hours a month.
Pope said, "The most important qualification to be a volunteer is the desire to serve everyone in our community and to support CAM's education mission. Many volunteers come to CAM to be part of something, to meet others, and to learn."
Knowledge of art is not required, but it is appreciated. Training is provided for volunteers to obtain any required knowledge.
Bobbi Fitzsimmons has been a CAM volunteer since April 2018. An artist herself, she said she appreciates the incredible role art has in our lives. Fitzsimmons had been caring for her husband who had Alzheimer's and when he died, she needed something to help her recover.
"CAM is a wonderful, welcoming environment and is a very inclusive, community-oriented organization. I was so thoroughly and warmly welcomed when I first decided to volunteer that I knew I'd landed in the right place," she said.
Fitzsimmons' background as an early childhood educator quickly placed her with Art Explorers, a program for the very youngest CAM guests. Fitzsimmons has also been a docent, giving tours to fifth graders and adults from nursing homes.
"This allowed me to work with a different age group of children and use some of the understanding I gained caring for my husband. Both of these groups are rewarding in their own ways," she said.
Celine DeMeyer, a fine arts major in college with a career as a graphic designer, has been volunteering since November 2018 at Visitor Services and for special events.
"I have more than one volunteer gig. This one is special to me because of CAM's mission. I think it's important and I'm glad to be able to advance the mission in a small way," said DeMeyer.
Nancie Kennedy, retired educator, has been a CAM volunteer since arriving in Wilmington nine months ago. She files new membership information and manages other administrative tasks.
"I first went to CAM to buy tickets to the jazz series and I also purchased a [museum] membership. After viewing the exhibits and attending a new member coffee, I was hooked. Connecting art, science and history is something I have not witnessed in other museums," she said. "The passion and warm welcoming atmosphere keeps me coming back. It is absolutely the place for me."
Kennedy can't tell you what is most fun at CAM. "There hasn't been an event that I have volunteered for that I didn't leave happy. Being around staff who have such a passion to provide the community with culturally enriching experiences is so rewarding. You will be warmly welcomed and, like me, you will find this is the place for you," she said.
DeMeyer added, "Art has been a part of my life since childhood. I want that to continue till the end. There is something about being among creative people that just lifts my spirits."
Fitzsimmons concluded, "Art is a way to view the world from different perspectives. It brings joy and enlightenment and educates about our past. With most things in life, you get out as much as you put in. Except in this case. I receive more than I put in. I've made some very strong friendships. It's a win-win situation if ever there was one. I feel very fortunate to be a part of Cameron Art Museum."
Want to learn more about volunteer opportunities? Attend CAM's Volunteer Open House on Feb. 21 at 2:00 p.m. "It's a great opportunity, with no pressure, to see what we are all about," said Pope.
Info: Cameron Art Museum, 3201 S. 17th St.