Community connector: Bertha Boykin Todd's years of educating continues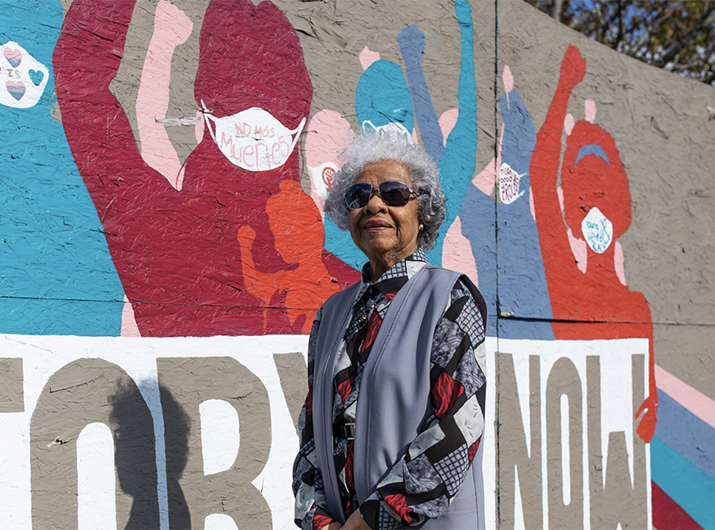 Dec 6, 2022
• 5 min. read
| By Lynda Van Kuren
From her time as a librarian at the newly integrated Hoggard High School nearly 55 years ago to her current work with the 1898 Centennial Foundation, Bertha Boykin Todd has played a pivotal role as a civil rights advocate in WIlmington. (Photo by Madeline Gray)
Some people see injustice and walk away. Bertha Boykin Todd isn't one of those people. A long-time civil rights advocate and former educator, Todd played a central role in the desegregation of Wilmington's schools. She also helped lead the efforts to bring the 1898 Massacre and Coup into the light in recent decades.
"I was very forward when I saw injustices," said the ninety-three-year-old Todd. "I was very bold in my comments; but I was also diplomatic, positive, and optimistic because I believe in God and in people."
Todd is all that and more. Persistence, courage and creative thinking come to mind, as does Todd's strategic approach to resolving problems – she prefers working around obstacles.
Such was her strategy as an educator in the New Hanover County school system. Todd was the all-Black Williston High School's first, and only, librarian. Then when the school system was ordered to integrate, Todd was transferred to Hoggard High School. Tensions were high, and the student population erupted into riots one or two times a week. Todd, who said she learned how to control confrontational Black and white student interactions in unstructured library time, was called on to get the school under control.
"I had to figure out what would turn that school around so the kids would stop fighting each other. I read, prayed, and persevered," Todd said. "I wanted to prove we could overcome the tensions a diverse student body incurred."
Through a combination of innovative ideas, such as developing projects that all the students wanted to be a part of, and making Black and white students co-chairs of clubs, Todd helped the students learn to work together and befriend each other. Gradually, the riots stopped.
At the same time, Todd served as a liaison between the school board, superintendent, staff, and the community. She often arrived home after midnight after attending community meetings, listening to concerns and fears, and diffusing high emotions. When tensions rose, she was on the phone, dialing the hotline she was given for emergency calls to the superintendent and board members.
As Todd advanced in the school system – she was the first female principal of Hoggard High School's summer school, career development coordinator, and director of staff development – she also became a community leader. Todd worked with the New Hanover County Human Relations Commission to handle complaints of racism and ensured that qualified African American employees were promoted to top administrative positions at the county's social services department. Todd also spoke on behalf of the Wilmington Ten, a group convicted of arson and conspiracy after a riot in the city in 1971. A federal court later overturned their convictions in 1980, and Gov. Bev Perdue issued their pardons in 2012.
In 1995, Todd was asked to co-chair the 1898 Centennial Foundation, which was formed to mark the hundredth anniversary of the 1898 Massacre and Coup. Todd accepted, even though doing so meant entering a minefield of opposition to bring back up Wilmington's violent chapter in history.
Once again, with determination and sensitivity, Todd bridged the divide. She involved descendants of the massacre in the foundation's activities and worked with the StarNews to ensure articles focused on the massacre, not individuals. She was also the only person of color in the group of professionals who gave presentations on the subject to community groups.
Todd and other foundation members worked for two years to bring the massacre and coup to the public's attention. Through the 1893 Commemoration at Thalian Hall; videos, articles, and books on the subject; and the dedication of the 1898 Memorial Park, which was a decade in the making, the tragedy has been more widely acknowledged and discussed.
"It (the massacre) took 100 years to uncover," Todd said. "It will take one hundred and more years to work with reconciliation."
Todd participated in the commemoration events last month, marking the 124th anniversary, that included history programs, panel talks, photo exhibit, staging of the play "What the River Knows" and more. As part of the events, Todd signed copies of her book, "Reflections on a Massacre and a Coup", at the Cape Fear Museum.
Todd has been a stalwart, and gracious, fighter for civil rights and improving race relations. Though her successes are many, it hasn't been easy. Todd said she may have suffered from PTSD; and during the worst of times, she couldn't talk about what was happening without crying.
However, Todd wasn't, and isn't, one to give up.
"I had to decide, am I going to be bitter or better?" she said. "I chose to be better."