Local YMCA program helps older adults stay active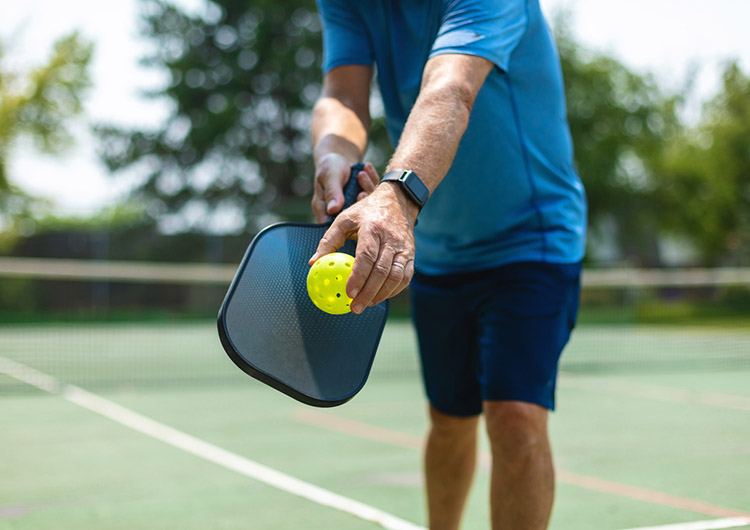 Mar 1, 2023
• 4 min. read
| By Beth A. Klahre
Pickleball is one of the offerings from the Nir Family YMCA's Active Older Adults program. (iStock.com/eyecrave productions)
It's fun to play at the YMCA, especially as an older adult! The Nir Family YMCA, part of YMCA of Southeastern North Carolina, located at 2710 Market St., offers classes, programs and events specifically targeted to adults aged 50 and older. Why? Because, according to the YMCA, older adults who stay active live longer and have better functional conditioning.
The YMCA's Active Older Adults (AOA) program offers a variety of classes and sports with varying skill levels tailored to older adults including water aerobics, therapeutic yoga, chair fitness classes, line dancing, pickleball, basketball, walking programs, monthly bingo, and card and coffee clubs.
Established one year ago, the AOA program is coordinated by Jane Klippel who transitioned from her full-time role at the YMCA to lead the program.
"I am of retirement age and I had so many questions, like what it means to retire and get older and how Medicare works. I became very aware of what it means to be 65, not 50 or 60 anymore, and what age means to my health. The Y has always had someone in charge of youth programs, family programs, younger adult programs and others, but I saw the need to coordinate programs under one umbrella for older adults," she said.
According to Klippel, one-fifth of the people using YMCA facilities are seniors, some even in their early 90s. The AOA program has been designed in alignment with the mission of the YMCA – putting Christian principles into practice through programs that build a healthy spirit, mind and body for all.
"Adults can join the Y and run on a treadmill by themselves. That's great, but it's often hard to stay committed and motivated on your own. Our instructor-led programs are really motivating," Klippel said "Water aerobics and senior group exercise classes have always been very popular. Now in my role I hear what our members want and need. New programs can be added."
Highly popular pickleball lessons, as well as opportunities to play, abound. In March, the YMCA will host its 7th annual Pickleball For All Tournament sponsored by Emerge Ortho and AARP. The tournament has two age divisions, eight teams per division and five skill levels offering fun community competition. Proceeds benefit the YMCA's Community Health Programs to improve the lives of those with Parkinson's disease, diabetes, arthritis, cancer and heart disease.
Everyone seems to enjoy walking with a group. A six-week Walk with Ease program starts on April 3 on the outdoor track on Mondays and Wednesdays. Walk with Ease is the only program of its kind identified as arthritis-appropriate and evidence-based by the Centers for Disease Control and Prevention, according to YMCA staff. The program, which increases in duration over the six-week period, also teaches stretching and strength building, improves balance, reduces pain, helps with weight loss, and improves mental and overall physical health. Participants receive a manual with lecturettes for each session. The program is free to members and nonmembers through support from the N.C. State Alliance of YMCAs.
Beyond the physical activities, Klippel noticed that social activities and opportunities for adults to meet and converse were needed. So AOA started a card club with the intention to create a fun social environment.
"Playing canasta – and soon bridge - is a mind and spirit exercise that challenges the brain. We intend to keep it going weekly," she said.
The coffee club that was on COVID hiatus has returned on weekday mornings. Coffee is made and served by young adults with special needs from the New Hanover County Schools Special Education Transitions Program. Fifty-cents-a-cup donations go right back to the Transitions program.
"People, people, people are the most fun part of my job. I know most of the pickleball players by name. We are a family here at the Y. The diversity is great and there is so much to choose from. The Y is here for everyone," Klippel concluded.
To learn more or join the YMCA, visit their website or Facebook page.