TruBlue helps older adults age in place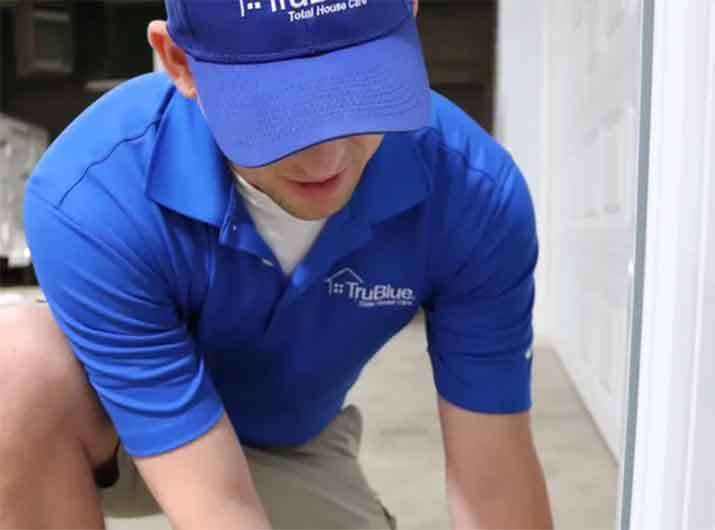 Jan 23, 2023
• 3 min. read
| By Jenny Callison
TruBlue Total House Care provides house maintenance and other handyman services for older adults in the Wilmington area. (Photo courtesy of TruBlue)
The owner of a new TruBlue Total House Care franchise in Wilmington says he has found his mission: helping older adults age safely in their homes.
"We will do anything, from putting in a single grab bar to undertaking a complete bathroom remodel," said Jeff Pittman.
Pittman opened his business in July 2021, building on the knowledge and skills he had accumulated over the course of his career.
"When I was very young, I worked in the construction business for a few years," he said. "Then I went to work for nursing and assisted living facilities; I would help them open their facility and then move on to the next. I did that for about 10 years."
A consistent issue for these elder care places was transportation, Pittman observed. He saw an opportunity.
"They were always short transportation getting residents to doctor's appointments, so I started my own non-emergency medical transportation business with wheelchair capabilities," he said. "We had contracts with health care providers, and although we took people to doctor's appointments primarily, we also furnished transportation for shopping and entertainment."
The coronavirus pandemic slowed Pittman's business significantly, leading him to consider doing something else. Hearing about TruBlue, he checked out the company, which bills itself as an ally of the aging homeowner as well as the busy professional who doesn't have time to make repairs or basic improvements.
"A lot of people buy furniture from Amazon and other vendors. We assemble it; we hang pictures, new light fixtures, ceiling fans and TVs," he said.
Pittman also looked at the Cape Fear market: an influx of new residents, many of whom are of retirement age; a demand for handymen and home improvement specialists; an aging-in-place trend.
TruBlue, said Pittman, "has both sides: the home improvement side and the aging-in-place side, helping anyone with a disability to stay at home rather than go to a facility," he said. "I thought it was a perfect fit for me."
Pittman has joined TruBlue's network of about 70 franchises across the country. Right now, older adults make up about 25% of his business, but the segment is growing.
"It's difficult to educate the public on what aging in place actually is," Pittman said, noting that most of his senior clients are still mobile: they may not need a wheelchair ramp but they'd appreciate a grab bar. And they are thinking ahead to features, like rounded counter corners, they might want in the future. With his knowledge of the assisted living and residential care industry, he can help them plan.
Pittman is building a network of medical professionals and therapists who work with older adults, and most of his marketing is geared toward an older audience. He's also building capacity to serve a larger customer base.
"We had some difficulty with employment in the beginning, but luckily, I have a couple of good people. We also work closely with Fresh Coat Painters, a franchise under the same company as TruBlue. We've hired a project manager for both our companies," he said.
"We stay very busy: we are scheduled now into March with both sides of the business."