Helping hands: Caring for furry friends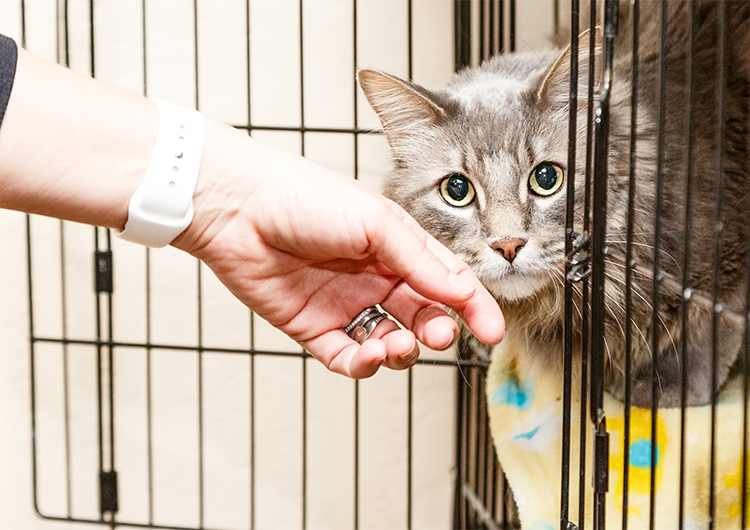 Jul 5, 2023
• 4 min. read
| By Beth A. Klahre
Volunteers with the Pender County Humane Society help socialize cats and dogs at the shelter through play and human touch. (iStock.com/ adogslifephoto)
Editor's note: Helping Hands is a recurring feature that spotlights volunteer opportunities for older adults across the Wilmington area. In addition to caring for animals, volunteers with the Pender County Humane Society support the organization's mission by cleaning and maintaining the facilities, enacting public education campaigns and working at For Our Furry Friends Thrift Store.
The Pender County Humane Society is a no-kill shelter located in Burgaw, that provides shelter and medical care to rescued animals from Pender and surrounding counties while searching for loving, responsible "fur-ever" homes. Supported by donations from the public and fundraisers, it is independently operated by volunteers who exercise, socialize, pet and give comfort to animals; clean and maintain the facilities; and assist with public relations and public education campaigns to encourage responsible pet care.
Paula Africa is one of the organization's volunteers. She primarily works with cats at the shelter.
"One of my favorite experiences is to be surrounded by baby kittens who want to climb all over me sniffing, fascinated by a button on my shirt or attacking my shoelace. It's guaranteed to melt your heart and lift your spirits," said Africa, an eight-year volunteer at the Pender County Humane Society.
Herself an owner of several cats that range in age from 12 months to 13 years old, Africa's duties include socializing cats through physical contact and play as well as cleaning when she volunteers twice a month for four hours each time.
Africa said, "Time and love go a long way in providing quality of life for the animals while they wait to be adopted. Even coming for an hour or two or helping with a project at the shelter is huge. For older adults, there are all kinds of ways to contribute depending on your comfort level around the animals. Just sitting with them or brushing their fur. Or walking the dogs. It all means something. Truly every bit helps."
Africa described her monthly time at the shelter as a rewarding experience.
"I consider it a gift to be able to look after the animals and love them until the right person or family comes along. The rewards are so great in making friends with them and gaining their trust. The love you get back is truly unconditional. The shelter is about saving and protecting lives and we always, always, always need help. You won't ever regret it," concluded Africa.
In addition to direct care for animals temporarily housed in the shelter, volunteers can also help support the Pender County Humane Society's mission by working at the For Our Furry Friends Thrift Store in Burgaw. In April, the organization's board of directors announced the purchase of For Our Furry Friends Thrift Store building along with two other buildings on the property. This ensured the society's ability to generate the necessary proceeds to support the no-kill shelter. The purchase of the property was made possible by a generous donation from Hampstead resident Alfred (Al) Sidbury. For Our Furry Friends Thrift Store was dedicated in memory of Al's late wife, Judy Holly Sidbury, a loyal supporter of the shelter.
To volunteer at the Pender County Humane Society Animal Shelter, contact shelter manager Marie Hayes at 910-259-7022 or email [email protected]. To volunteer at the For Our Furry Friends store, call store manager Debbie Graves at 910-789-5000 or email [email protected].