Helping hands: Curtain call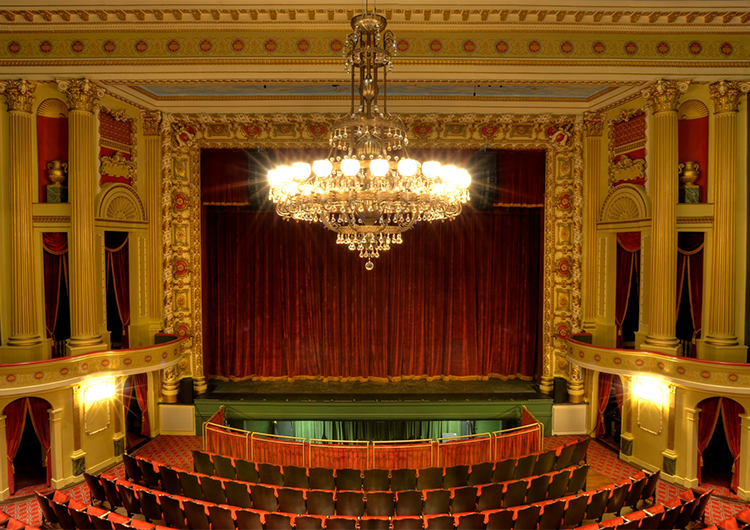 Apr 6, 2023
• 4 min. read
| By Beth A. Klahre
A volunteer corps manned by more than 120 active volunteers ensure the show goes on at Thalian Hall Center for the Performing Arts. (Photo courtesy of Thalian Hall Center for the Performing Arts)
Editor's note: Helping Hands is a recurring feature that spotlights volunteer opportunities for older adults across the Wilmington area.
A vital part of making sure the curtain rises for every performance at Thalian Hall Center for the Performing Arts is a crew of 120 active volunteers who generously give of their time.
Thalian's Volunteer Corps serves in a wide range of roles including ticket takers, concession workers, and greeters and ushers for community theatre, concerts, dance, comedy and film events. Director of event services Robyn Nielsen says the Volunteer Corps is the face of Thalian Hall.
"They're the first people patrons see upon entering the theater. Their love of Thalian Hall shines through and helps us create a warm and inviting atmosphere. We couldn't do this without them," she said.
Michael Morelli has been the facilities director at Thalian Hall for the past 12 years. "We have many events, just about every day, that utilize ten to 20 volunteers," he said. "In addition to our active volunteers, we have 250 volunteers in our database."
Requirements to become a volunteer include professionalism, a sunny attitude, a love of theater, cinema and history, and a minimum age of 18 years old. The current volunteers range in age from late 40s to early 80s.
Nielsen said, "Volunteering at Thalian Hall is perfect for our older community. Age really doesn't affect what job a volunteer may do. And while you are working, it's also a fun social time. You meet lots of people and see great shows together."
Edith Steele has been volunteering at Thalian Hall for ten years. "I first volunteered in my early 70s because I was retired, bored and a little lonely. My group of friends was shrinking. My years at Thalian have not only filled my time, but have given me many more pleasures. I have made new friends and acquaintances. And I have enjoyed events, many I would not have attended except for helping out as a volunteer."
The amount of time that a volunteer spends depends on the event. Volunteers are expected to arrive one hour prior to the start of a performance and stay until most of the patrons have left resulting in shifts from 2.5 to 4.5 hours.
Joyce Shepherd, who loves to attend movies at Thalian Hall with her daughter Isabelle Shepherd, started volunteering last August. She enjoys preparing for her volunteer role. "I check my makeup and comb my hair when I arrive. We are expected to have a nice physical presentation and follow the uniform code, black pants and a white shirt. I arrive early and relax with the other volunteers until we get our assignments."
Steele added that the most fun is the camaraderie with other volunteers and theater staff. "We high-five when the last wine or Coke is served when working the concession stand. And we all don our gloves and grab our bags for a cleanup sweep of the theater after an event. As part of the volunteer team week after week, we feel we are a large part of providing the entertainment – or maybe just sheer joy – to our patrons," she said.
The first step to becoming a volunteer is to visit the Thalian Hall website and complete a Volunteer Request Form. Applicants can expect to hear back within a few days with an invitation to a volunteer orientation held on the first Monday of the month, except for major holidays, at 5:00 p.m.
"It only takes one time to learn the jobs," said Shepherd. "It is a very welcoming place, and everyone helps you get comfortable in all the positions."
And don't forget the perks! In addition to viewing the shows, volunteers are invited to an annual volunteer appreciation party with dinner, games and other fun activities. On movie nights volunteers get free popcorn.
"Who doesn't love that?" laughed Nielsen.
Steele concluded, "Part of the pleasure of volunteering is having patrons recognize me from previous events and thank me for being there. That is why I keep coming back."