Helping hands: Saving the sea turtles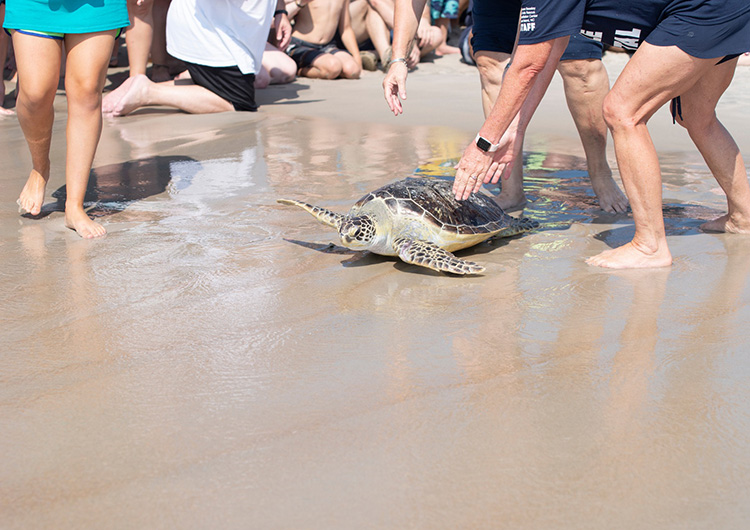 Mar 15, 2023
• 5 min. read
| By Beth A. Klahre
Volunteers at the Karen Beasley Sea Turtle Rescue and Rehabilitation Center help nurse injured or sick sea turtles back to health, a process that culminates with the turtles being released back into their natural habitat. (Photo courtesy of the Karen Beasley Sea Turtle Rescue and Rehabilitation Center)
Editor's note: Helping Hands is a recurring feature that spotlights volunteer opportunities for older adults across the Wilmington area.
Those lucky enough to catch a sea turtle trekking up the beach to nest or experience the magic of hatchlings making their way to the ocean guided by the natural light horizon have observed a magnificent event played out on North Carolina's shoreline since time immemorial.
The Karen Beasley Sea Turtle Rescue and Rehabilitation Center in Surf City exists to preserve and protect the presence of these incredible, ancient creatures. Kathy Zagzebski, executive director, joined the center in February 2021. She first fell in love with sea turtles in her previous job as executive director of the National Marine Life Center in Buzzards Bay, Massachusetts. "We rehabilitated cold-stunned Kemp's Ridley turtles. They have a fun personality, or should I say turtle-ality," she said, laughing as she described these smallest sea turtles in the world.
The staff at Karen Beasley Sea Turtle Rescue and Rehabilitation Center is complemented by nearly 500 volunteers who provide care for turtles and facilitate education at the center.
"Our organization has a very small paid staff. We could not conserve and protect sea turtles without the dedicated efforts of our volunteers who truly make a difference every day," Zagzebski said.
The center offers many volunteer opportunities varying in level of responsibility and leadership: Volunteers help sick and injured sea turtles recover so they can be released back to the wild; They protect nesting female turtles, their nests and their hatchlings so the turtles can live natural lives; And they educate the public through tours of the hospital and informal education on the beach.
Due to the nature of the work and amount of training required to gain knowledge of sea turtles, volunteers must commit to an entire nesting season or an entire year. All volunteer positions are in and around Surf City and Topsail Island. Volunteers must be at least 14 years old, but there is no upper age limit for volunteering and older adults are suited to serve in every volunteer position.
Jean Beasley is the founder of the center, named after her daughter Karen, with whom she witnessed her first nesting sea turtle and who passed away at a young age. Currently 87 years old and the oldest of the volunteer brigade, Beasley serves as a director emerita on the nonprofit board. Up until her retirement in 2021, she was actively involved with sea turtle rehabilitation.
84-year-old Phoebe Hood has been a volunteer at the hospital for eight years. She feeds turtles, cleans tanks, washes and dries towels and dishes, and during tours she educates the public and sells merchandise in the gift shop.
"This is an amazingly rewarding volunteer job because of the people and the animals. Being able to release 95% of the turtles that are brought to us back into the wild is very rewarding," she said. "The team I work with allows me to do what I can without expecting me to have the strength and energy of a younger person," she added.
Marci Anderson has volunteered at the center since 1998 in various capacities. She is currently involved with general turtle care and cleaning. In the summertime she tackles beach patrol, monitoring turtle tracks to locate nests and nest-sitting until the eggs boil, the term applied to the hatching of baby turtles from their eggs.
"It's not always about having my hands on a turtle. It's also about doing other things that support the mission. If laundry needs done, I do laundry," Anderson said. "It is joyous when a turtle that has not been eating finally decides to eat or a rehabilitated turtle goes home," she added.
Paige Wheeler, who is also a volunteer with the Wrightsville Beach Sea Turtle Project, has volunteered at the Karen Beasley Center for three years. "We all work together and share the responsibility to feed, clean and administer medical care to the turtles. It sounds simple, but it's a lot of work. It really takes an entire team and I am honored to be a part of it," she said.
Wheeler admitted that there are both happy and sad times. "But it is the most glorious feeling when I can watch a sea turtle return home for a second chance to live her life," she said. Smitten with sea turtles after participating in her first boil, Wheeler summed it all up, "These beautiful creatures teach me more than I can ever do for them."
The Karen Beasley Sea Turtle Rescue and Rehabilitation Center in Surf City is now accepting applications for a variety of volunteer positions. A complete list of opportunities can be found on the website.