Helping hands: Transforming lives through literacy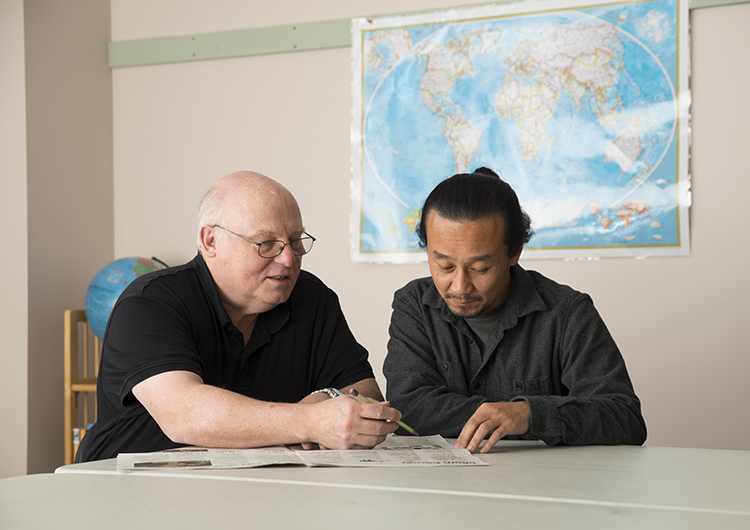 Feb 13, 2023
• 5 min. read
| By Beth A. Klahre
Volunteer tutors with the Cape Fear Literacy Council provide life-changing literacy instruction to adult learners in the area. (Photo courtesy of the Cape Fear Literacy Council)
Editor's Note: Helping Hands is a recurring feature that spotlights volunteer opportunities for older adults across the Wilmington area.
Imagine a community where all adults have the literacy and language skills they need to succeed. That's the vision that the Cape Fear Literacy Council (CFLC) has worked to achieve for more than 50 years.
From its earliest days, the organization was powered by volunteers. CFLC has recruited, trained and certified more than 2,000 volunteer tutors who have donated hundreds of thousands of hours to help thousands of adult learners throughout the Cape Fear region. Last year CFLC had 205 volunteers, ranging in age up to 87 years young, who together clocked 12,008 hours.
Heather Caveny, volunteer since 2006, has been teaching ESL regularly since 2015. She has taught lawyers and a doctor, successful businessmen and women, engineers and skilled tradesmen, all who immigrated here and were not fluent in English. And she's taught people who never finished high school in their native countries.
"I love the staff. I love the energy. I love that we're empowering people. I love that as someone learns to communicate better in English or learns to read, so many new doors are opened to him or her," Caveny said, adding that English is not necessarily a student's second language.
"Sometimes it's a third or fourth or sixth language," she said.
Nancy Woolley is the CFLC program manager and Yasmin Tomkinson is the executive director. Both have worked in educational organizations for most of their careers and started with the Literacy Council as volunteer tutors in the adult literacy program.
"As volunteer tutors, we realized the meaning and importance of this service. We are grateful to work for an organization that focuses on individual learners and ultimately has a ripple effect in learners' families, their jobs and this entire community," said Woolley.
Volunteers must be high school graduates, at least 18 years old and complete a tutor certification workshop for instructional positions. Instructional positions include adult literacy tutor, math tutor, English as a Second Language (ESL) tutor, computer tutor, ESL conversation partner and U.S. citizenship preparation interviewer. Non-instructional volunteer positions include mailing support, online bookshop volunteer and receptionist. Time commitment varies and tutoring is offered both face-to-face and online.
Woolley said that CFLC tutoring is a great opportunity for older adults because they often have the time and a flexible schedule to work with adult learners' busy lives. About 65% of CFLC tutors are aged 60+. Woolley noted that being a tutor is a significant time commitment.
"But those who have it to give actually see their students' lives change as their ability improves," she said.
The Literacy Council was founded with the motto 'each one teach one' and that spirit remains true.
"We truly depend upon our volunteers to fulfill our mission of providing personalized education so adults can transform their lives and contribute to a stronger community. Volunteers share their gift of education so that others may thrive. Our volunteers are some of the most dedicated, caring folks in this community," Tomkinson said.
Linda Cooper has been a CFLC volunteer for ten years. She is a member of the training team, a one-on-one tutor and small group tutor.
"I believe that improving an adult's literacy can open new opportunities and change lives. Every American adult deserves to be taught to read. I believe that many of our CFLC students have been short-changed by our society and educational systems," she said.
Cooper is a retired elementary school teacher which she considers "a bonus" to her role although volunteers do not need an educational background. Training is provided. Cooper has worked with a variety of learners with differing educational needs.
"When I first started volunteering at CFLC, I worked with three older gentlemen who did not even know their ABCs. One had never attended a day of school in his life. It's been an incredible experience. One of these men now reads street signs while he is driving, information on food packages in the grocery store and has recently been working on reading maps," she said.
Cooper summed it up, "My volunteer experience at CFLC has enriched my life and taught me so very much about another forgotten culture here in our country. It has truly changed my life, made me proud to be a part of such important work and warms my heart!"
Those interested in joining the CFLC volunteer team can email [email protected] or call (910) 251-0911.