Helping hands: All hands on deck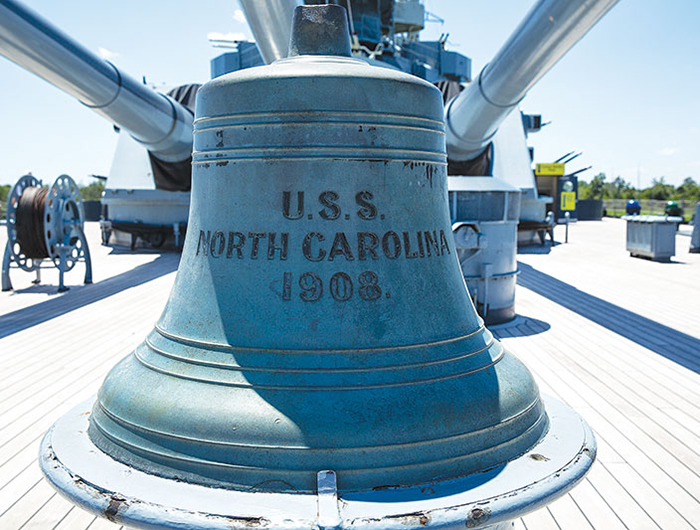 Nov 30, 2022
• 5 min. read
| By Beth A. Klahre
About 200 volunteers perform essential work at Battleship North Carolina. They logged more than 15,000 hours this past year. (File photo)
Editor's note: Helping Hands is a recurring feature that spotlights volunteer opportunities for older adults across the Wilmington area.
Battleship North Carolina docks proudly in the Cape Fear River across from downtown Wilmington. Opened to the public in October 1961, it is an authentically restored World War II battleship and the state memorial to 11,000 North Carolinians who gave their lives in World War II.
When Kim Sincox, museum services director for the past 32 years, was just 10 years old, she sported a patriotic dress and stepped onto the battleship for her the very first time while on a family vacation. Backed by years of watching World War II movies with her father and college degrees in history, she is responsible for the live programs held on the ship and 200 volunteers who range in age from 18 to 96 years old. Most of them are older adults.
"These retirees enrich our community and are essential to our ship. They come from all walks of life – detectives, secret service agents, sales personnel, teachers, doctors, engineers and military personnel," Sincox said. "They are incredibly smart, enthusiastic, reliable and willing to do anything."
Volunteers paint and clean weekly, provide daily guided tours and staff programs for students, families, military personnel and corporate groups. Tour guides and ambassadors attend training classes while program volunteers do their own research in the ship's archives. Volunteers contributed 15,000 hours this past year. Many volunteer in several positions.
Nine-year volunteer Chuck Gore, retired naval officer and second-grade teacher, is the teak deck cleaning coordinator. "I love history. I can't get enough of World War II. I bring this knowledge to the visitors. I also enjoy the camaraderie among the volunteers," he said.
David Holloway, retired naval officer, remembers donating nickels and dimes as a school kid to bring the battleship to Wilmington. He also recalls talking with his teenage friends saying, "If I retire and come back to Wilmington, I will paint the battleship." Holloway came back to Wilmington after active duty as a navigator, a nursing career and serving in the military reserves. He started volunteering in 2017 as his way of giving back.
Holloway said he enjoys observing the school kids on tours of the ship using the sound-powered phones. When crews were at battle stations, the principal means for rapid and reliable voice communication within the ship was sound-powered phones. As the name implies, the phones are solely energized by the voice of the speaker. They were used for both incoming and outgoing messages to the crew. Hands-on fun for school group tours includes trying out the phones.
"I tell them to remember they have a strong voice because it's their voice that powers the phone set," he said.
In addition to being a tour guide, John Munn, retired Marine Corps officer and volunteer since 2014, teaches classes and works on the Wednesday morning maintenance gang.
"I enjoy watching the ship continue to live through painting and the opening of different ship compartments. I also enjoy interacting with visitors," he said. Munn's favorite visitors are those who ask questions that put him on the spot. "The little kids ask some great questions," he said.
Lori Spencer is a docent in the ship's butcher shop and "cabooses" guided tours. She retired from teaching junior high math for 40 years.
"This is a truly great place to volunteer. I have enjoyed it for eight years. There are lots of volunteer opportunities. Your choice," Spencer said.
All four of these dedicated volunteers also staff programs.
Are you ready to join the volunteer crew?
Gore said, "Go for it! Even if you have no time at sea or past military involvement, you can self-learn on the ship. It's a lot of fun."
Holloway added, "If you want to learn something different than your career, the battleship is excellent."
And Munn said, "I could barely spell battleship, but like me, you will pick it up over time. Come on down!"
Your volunteer badge gets free admission for you plus one, a twenty-five percent discount in the gift shop and an invitation to the annual luncheon.
"Plus a guarantee to keep your brain juiced up," added Sincox. "And you will meet fascinating people from all over the world."
Both Heather Holbrook, marketing director, and Sincox work from offices on the ship. They believe it's an honor and privilege to work here. "The ship has personality. Her rich history is palpable and it's a special feeling to come aboard every morning," said Holbrook.
To interview for a volunteer position, email Sincox at [email protected].