Helping hands: All aboard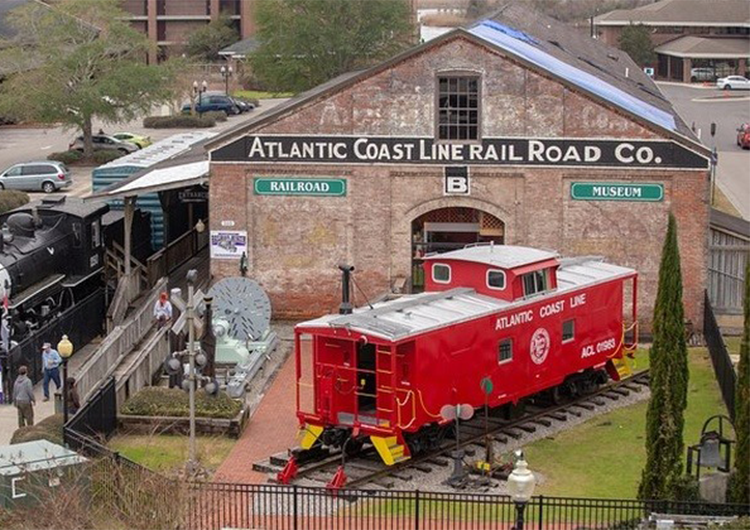 Sep 13, 2023
• 5 min. read
| By Beth A. Klahre
A team of about 30 active volunteers help keep operations running smoothly at the Wilmington Railroad Museum. (Photo courtesy of the Wilmington Railroad Museum)
Editor's note: Helping Hands is a recurring feature that spotlights volunteer opportunities for older adults across the Wilmington area. At the Wilmington Railroad Museum, a team of about 30 active volunteers keep the organization on track.
Ron Guillaume grew up across the street from a freight train switching yard. "Trains were always visible from my parents' home. On rainy days, I would watch them for hours at a time," he recalled. Today Guillaume volunteers at Wilmington Railroad Museum as a modeler, aka model railroad hobbyist; fixer of things, including the computers and electronic devices; and host of museum visitors.
Volunteers like Guillaume help make the Wilmington Railroad Museum one of the best in the country and internationally. Visitors can climb on a real life-size caboose and a 100-year-old steam locomotive, interact with foot pedals and accessories, and view spectacular model layouts.
"Wilmington Railroad Museum provides an educational and enjoyable experience with a focus on the history of railroad technology of the eastern Carolina rail industry and the people who worked on it," said Holli Saperstein, executive director. Starting in the 1830s and for more than 125 years, railroading was among Wilmington's chief industries. From 1835 until 1960 the Wilmington and Weldon Railroad, later renamed the Atlantic Coast Line Railroad, was headquartered in Wilmington, providing thousands of jobs and the largest share of revenue for the local economy as a top contributor to the area's commercial and industrial growth.
The museum has about 30 active volunteers ranging in age from 24 to 94 years old who work eight to ten hours per week. Last year these volunteers donated over 8,000 hours of service. "The majority of our positions are great for older adults. Some positions do not require previous experience or specific qualifications. Most of our modelers have joined us with experience, however, we are happy to help a new modeler learn," Saperstein said.
Volunteer jobs include docent, ticket agent, gift shop attendant, storytime reader, and modeler for G, HO, O, and N scale trains. There are opportunities for maintenance of the facility and the full-size locomotive, as well as construction, project work and landscaping. For special events, volunteers decorate, serve as conductors, sell tickets and serve refreshments.
During the holidays, volunteers like Guillaume help to deliver a dose of cheer to the museum. "Covering over 1000 feet of train layout with fake snow, Christmas trees and ice skating ponds, and decorating the houses with Christmas lights is very time consuming. And so is the spring time vacuuming of the fake snow," Guillaume said. "But it's all worth it, seeing the faces of the visitors."
Bill Bryden has volunteered at the museum for over 20 years, maintaining the model railroads, setting up and running the annual Christmas light show, and serving on the board of directors. "I started playing with and modeling toy trains when I was about 10 years old and never stopped. I have continued my passion here at the museum with a desire to preserve the history of trains in Wilmington," he said.
Bill Massey enjoys so many things about volunteering at the museum. "I had an HO model railroad as a teenager," he said "But it's the camaraderie with fellow museum members and putting my skills to work that is most fun. Staff and volunteers are all so friendly and want to share their knowledge. It is a wonderful place to meet new people and share our interests and abilities."
You don't need to be a ferroequinologist — the fancy word for a person who is recreationally interested in trains — to volunteer. Sharon Stone, board member and fundraising chair, writes grants for financial support of the museum and is the monthly newsletter editor, using skills she honed in her working days. "Coming from New York City, I don't really have an interest in trains. My interest is in the back office organizational aspects of the museum. I volunteer as a way to give back to my community. Putting out each month's newsletter is fun. I'm learning new software and always have my eye open for things that might interest our readers," she said.
Regardless of whether volunteers bring a previous interest in trains or railroad history to their work at the museum, they describe their time there as rewarding. Bryden said, "Should you be interested in Wilmington history or love model railroading, this is the place to be! It may sound like work until you see the first smiles of visiting children." Guillaume agreed. "It is always gratifying to hear someone on their way out of the museum say, 'Thank you. This was really fun. I loved it.'" he said. "The Wilmington Railroad Museum is a special place to volunteer."
Interested in volunteering? Call 910-763-2634 or fill out the form on the website.