Older adults nurture lifelong passion for music at local academy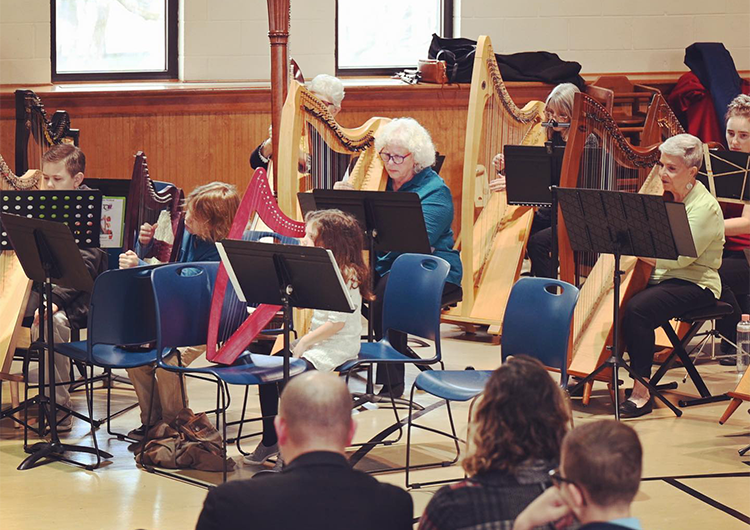 Aug 16, 2023
• 5 min. read
| By Beth A. Klahre
The Adult Harp Ensemble performs at a Brooklyn Arts Music Academy (BAMA) recital. More than 20 older adults are currently learning to play the cello, harp or violin at the music school. (Photo by Linda Estep)
For older adults taking classes at Brooklyn Arts Music Academy (BAMA) in downtown Wilmington, learning to play the cello, harp or violin is more than a fun pastime; it's a way to improve their quality of life.
BAMA is a classically based, premier music school for string instruments. Founded in 2018, BAMA currently has 21 older adults taking lessons.
Christina Brier, executive director and harp instructor, said, "Music lessons greatly enhance a person's life. Through continued music study, older adult students can achieve mental and physical agility, lower stress levels and expand social circles."
Brier's observations are backed up by studies from the National Institutes of Health Library of Medicine, which cites improved cognitive function, communication skills and mental health, and connection to others as benefits of learning to play a musical instrument. In particular, individuals ages 65 and older noted improved self-esteem, greater independence, a temporary escape from the stress of daily life and a sense of achievement.
Both Brier and Linda Estep, BAMA creative director and violin instructor, love teaching adults. "Adults want to talk about the nitty gritty of the violin. As a violin nerd, I thoroughly enjoy having an intellectual conversation about how violin playing works," Estep said, adding that older students love learning new skills, including music theory. "Being able to do something new is so satisfying," she explained.
Brier enjoys highly motivated adult students. "When I'm teaching young children, I often have to work to maintain their attention and create games to keep them engaged. With adults, I focus on the music and each student's goals," she said. "And I have seen music serve as emotional support. In the past year one of my students experienced loss of pets and family. Playing harp offered solace and regular harp lessons provided social engagement and support."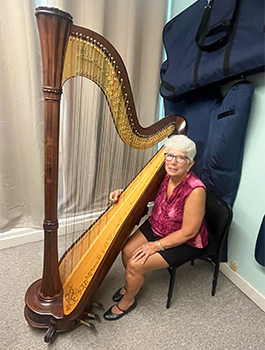 Michele Aebi has been taking harp lessons at BAMA for nearly two years. Her love of music started at the piano when she was five. Aebi took her first harp lesson during college where she obtained degrees in piano, music education and choral conducting. "I play every day," she said. "I'm improving. Playing helps my arthritis. I love to practice and Christina coaches me on the proper technique and helps me find new ways to attack problem areas."
Cello lessons allow fellow BAMA student Jack Hooks to reconnect with a childhood interest in music. Hooks took piano lessons in grade school but dropped out to play basketball. "I've lost most of what I accomplished. One of life's lessons, I should have kept it up," he said. Hooks takes cello lessons for enjoyment and said he has the most fun playing when accompanied by his instructor, Andrew Anagnost. "Andrew is a very encouraging, top-flight instructor. He always finds something positive about my efforts. Then he suggests things to improve. He's very patient," said Hooks.
Sheri German has been taking violin lessons at BAMA from Adam Crane since September 2022. German played piano as a child and took piano lessons through college. "I always wished I could play a stringed instrument, too. My violin belonged to my husband's grandfather. I recently retired and playing the violin is a wonderful hobby," she said.

Beyond private lessons, BAMA offers group lessons and performance opportunities. Estep said that playing with even one other person is beneficial. "It takes away the focus on things going wrong when you are playing by yourself and moves the focus to music-making with another person. It becomes more about the music and less about the technical side of the instrument. And it's the chance to hear the song as a whole instead of stopping for every note that is wrong."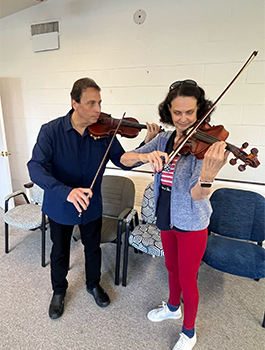 Many of the adult harp students, several over age 70, participate in monthly group harp lessons and biannual all-school recitals, including Aebi. "Group playing is a good stretch and I've learned to control performance problems," she said.
For these students, music will be a lifelong passion. Aebi said she will continue to play her harp as long as she can. "As a retired person living away from family, music lessons connect me with people with the same interest," she concluded. German plans to continue violin lessons as long as she is physically able, as does Hooks, who said, "I laugh and joke about my playing, but I love the sound of the cello and enjoy it when I hit the notes properly."
Estep echoed Hooks' sentiment as one she emphasizes with all of BAMA's older participants. "I remind my adult students that music is a journey, not a destination. Each step is important and mistakes are allowed and encouraged. This is how we learn," she said.