Living like a local: Merry-making for moms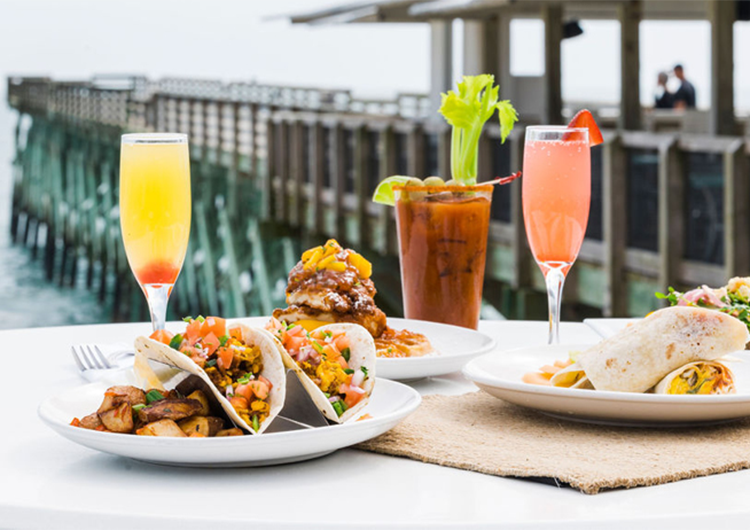 May 8, 2023
• 3 min. read
| By Karen Bright
Enjoy Sunday brunch with a view at Oceanic Restaurant's Crystal Pier in Wrightsville Beach. (Photo courtesy of Oceanic Restaurant)
Living Like a Local columnist Karen Bright shares her top local spots for celebrating Mother's Day on Sunday, May 14.
It's May! This is the month to celebrate mothers. May also happens to be a perfect time of year for outdoor dining. We have a multitude of places from which you can choose. Whether you like the beach, downtown or somewhere in the middle, Wilmington will not disappoint.
Oceanic Restaurant is located on Wrightsville Beach's Crystal Pier. Tables on the pier provide a picturesque view of the ocean and the beach. Oceanic serves brunch every Sunday from 10 a.m. until 3 p.m. Their brunch menu is as diverse as the lunch and dinner menu with a lot of options for great seafood. For all of you moms reading, be sure your family treats you to dessert afterward! This is a wonderful place to take your family for a Mother's Day celebration!
Another great brunch spot to enjoy with the family is the aptly named Brunches. Their fantastic menu includes flights of mimosas! I don't know about you, but I love a good flight. They too have outdoor dining on a nice covered patio at their Mayfaire location. I have to admit it is not quite as scenic as sitting on a pier, but the food and drinks are well worth any lack of view and your whole family will enjoy! One benefit of dining in Mayfaire is the abundant array of post-brunch activities: whether you browse the shops or catch a movie, there are so many ways to celebrate and savor this much-deserved day.
While spending time with the whole family and sitting down to a nice brunch are traditional ways to spend Mother's Day, this may not be for everyone. Maybe your kids don't live near enough to spend the day with you. If that's the case, I think you will really enjoy a rooftop drink or two at Cloud 9 Rooftop Bar. Cloud 9 is perched at the top of The Embassy Suites by Hilton Riverfront Wilmington downtown. There is no better place to enjoy a panoramic view of the Cape Fear River, the bridges and our historic Battleship North Carolina. Oftentimes they line up live music to accompany a delicious cocktail, wine or a wide variety of beers. If you're hungry, Cloud 9 also offers aptly named "Pie in the Sky" pizzas and appetizers. This rooftop bar is a little upscale and a lot of fun!
Wilmington has so many beautiful places to spend with family or friends for Mother's Day. I know I personally cannot wait! I want to take this time to thank my own mother for always taking such good care of us. Happy Mother's Day, Mom! And happy Mother's Day to all the moms who pour so much of themselves into their families! This day is for you.