Local restaurateur shifts gears with Vochos Urban Mexican Kitchen, coming soon to Mayfaire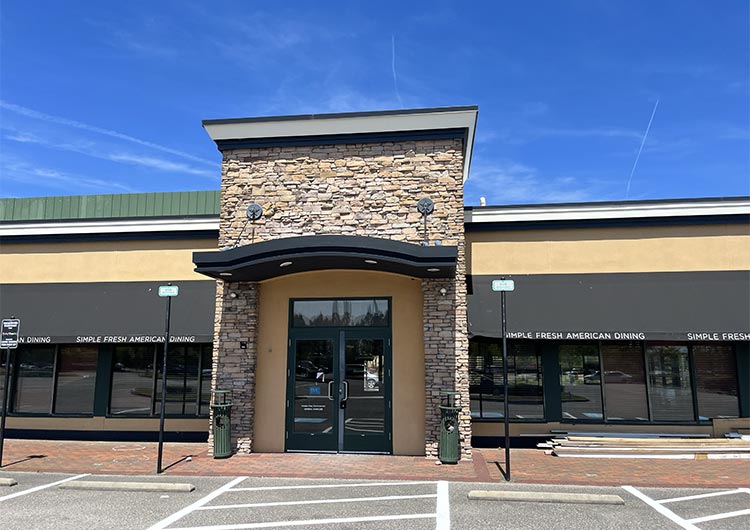 Apr 12, 2023
• 4 min. read
| By Miriah Hamrick
Alex Zaragoza, one of the restaurateurs behind Chingon Tacqueria, Papi's Chicken and Si! Señor Modern Mex, is working to transform the space that previously housed Ruby Tuesday into Vochos Urban Mexican Kitchen. (Photo by Cece Nunn)
A new restaurant inspired by the culture and cuisine of Mexico City is cruising into the old Ruby Tuesday location at 1138 Military Cutoff Road in Mayfaire.

Set to debut later this year, Vochos Urban Mexican Kitchen is the newest project by local restaurateur Alex Zaragoza, who opened Si! Señor Modern Mex in Wilmington as well as Papi's Chicken and Chingon Tacqueria in Leland with his siblings. With this newest restaurant, Zaragoza is striking out on his own with a concept inspired by a dashed childhood dream.

In Zaragoza's native Mexico, Vocho is a nickname for a Volkswagen Beetle, the iconic curvy car that swept the nation in the mid-20th century. The cars were particularly popular in Mexico City, where green and white Vochos served as the city's taxis for decades.

As a child, Zaragoza was tasked with cleaning his uncle's beloved Vocho, a red 1972 model, daily. In return for years of devoted maintenance, Zaragoza's uncle promised he would pass the car onto his nephew for his 16th birthday.

"You can imagine how excited I was, a 13-year-old kid who was told he will own that particular car when he turns 16," Zaragoza said.

Then, a year before Zaragoza was set to take ownership of the car, a recession struck Mexico, forcing his uncle to sell the red Vocho.

"He literally broke my heart," Zaragoza said, adding that he "never forgot" about the car. After years of searching, he found an old 1972 red Beetle, like the one his uncle promised, and he's been working to restore the vintage car to its former glory. Around the same time that Zaragoza secured the Vocho, he began working on this new restaurant project. He said he decided to name the restaurant Vochos in a nod to the feeling of coming full circle with both the car and the new eatery.

"It really has a strong meaning to me. I feel like I will accomplish something that I always wanted. It feels good," Zaragoza said of the name.

Zaragoza described the menu planned for Vochos as something different from other Mexican offerings in the area.

"The food will be authentic Mexican food, but based on Mexico City. It will be nothing like Si! Señor or Tex-Mex or your traditional Mexican restaurant," Zaragoza said. "It will be something more elevated, out of the box, [with] items that probably haven't been around the city of Wilmington."

Vochos will serve some of the iconic street foods found in Mexico's capital city including tlacoyos, an oval-shaped pocket of thick corn dough stuffed with refried beans and chihuahua cheese and topped with onions, cilantro, and avocado with sauces. Chicharrones, or crispy bites of pork belly, also sprinkle the menu, mixed into housemade guacamole and served alongside crispy ribeye bites in a chicharron sampler. Birria, a brothy braised meat dish, makes an appearance on bao buns with chihuahua cheese, pickled red onions and fresh cilantro.

Other elements of the menu draw inspiration from a more upscale experience than fare peddled by street vendors. For example, multiple varieties of ceviche are planned, many of which feature fresh seafood cured in a bath of tiger's milk, a spicy citrus-laced marinade.

The cocktail program will also appeal to more sophisticated palates, with about 10 options crafted with bespoke bitters and housemade fruit infusions, all served over cuts of ice customized to the drink.

"It'll be more like an experience, versus just getting a traditional cocktail," Zaragoza said.

The 5,200-square-foot building will be able to seat about 300 guests once an outdoor patio is complete. Zaragoza envisions a space that is vibrant and colorful yet refined.

"It won't be an upscale Mexican restaurant. That's not what I'm trying to do. But it will definitely have a little feel like that," Zaragoza said.

Zaragoza plans to open Vochos around August of this year.