Oklahoma onion burgers planned for The Pointe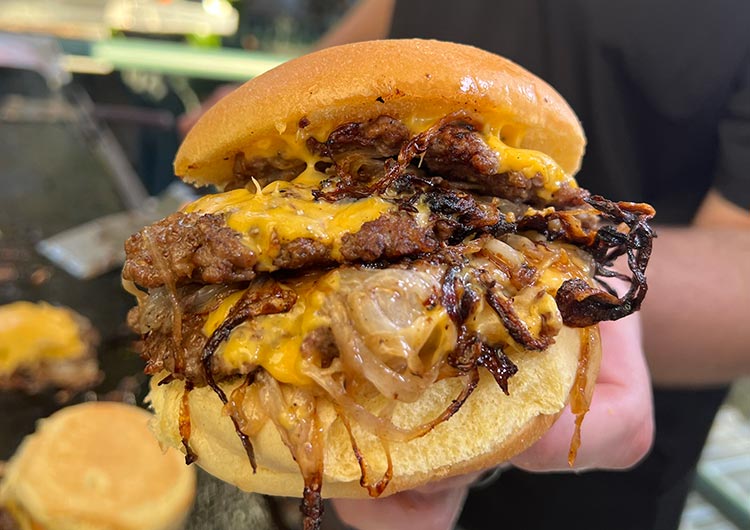 Mar 22, 2023
• 3 min. read
| By Miriah Hamrick
Oklahoma's Original Burger will serve classic Oklahoma onion burgers with a smashed patty flecked with thin, crispy slices of caramelized onions and melted cheese sandwiched between a soft potato bun. (Courtesy of Oklahoma's Original Burger)
A new burger is coming to Wilmington later this year: the Oklahoma onion burger.

Born out of lean times resulting from the Great Depression, the Oklahoma onion burger was allegedly invented as a way to stretch limited supplies of red meat by adding a pile of cheap, flavorful onions to each patty as it cooks. The result is a juicy, smashed-style burger laced with thin, crispy slices of caramelized onion, traditionally served between two halves of a pillowy soft bun.

This is the main offering planned for Oklahoma's Original Burger, a new eatery in the works at The Pointe. Three couples are working together to bring the project to life: Ace and Jamie Alfalla, Dave and Lauren Gerin, and Donohue and Rachael Whyte.

Each onion burger from Oklahoma's starts with a handful of simple ingredients, prepared intentionally to create a final product greater than the sum of its parts. A 3-ounce ball of beef, a pinch of salt, and a pile of thinly sliced onions are added to the flat top grill and smashed to combine. Once the edges become lacey and crisp, the burger is flipped and the onions cook in the beef drippings until caramelized and charred.

At this stage, the Oklahoma's crew tops the sizzling patty with a slice of cheese and both halves of a potato bun, a signature move to infuse the bun with the flavors of the onions cooking below.

"We stack our bun in a really unique way so all that onion flavor is steamed into the bun, and it softens the bun as it finishes cooking," said Dave Gerin.

The finished product will be served "classic style," Dave Gerin said, with just the crispy, cheese-topped onion patty sandwiched between a potato bun.

"Once you taste it that way, it doesn't need anything else," he added.

Traditional fixings like ketchup, mustard, lettuce, tomato and pickle will be available at no charge for those who want to dress up their burger.

"There's no wrong way to eat it. We're going to have all the toppings that you can add to it," he said.

In addition to burgers, Oklahoma's will serve French fries and milkshakes. The latter will be prepared using a Swirl Freeze machine, allowing the restaurant to add whirls of flavor-making cereals, cookies and more to the frozen treats.

"Think Fruity Pebbles or Cocoa Krispies, all swirled together into a milkshake," Dave Gerin said.

As plans and permitting near completion, the next step is to refresh the space, which formerly housed Crave Hot Dogs & BBQ, for its new use. Dave Gerin described the aesthetic of the eatery as "very retro, but modern" with inspiration drawn from the golden age of advertising in the late 1950s and early 1960s as well as Saturday morning cartoons from the 1990s.

Outdoor seating will come online later this year, which Dave Gerin said will be "cozy."

The couples plan to open Oklahoma's at 1407 Barclay Pointe Blvd., Unit 401, by late spring or early summer. The eatery will be open for lunch and dinner seven days a week.