Newest neighborhoods under development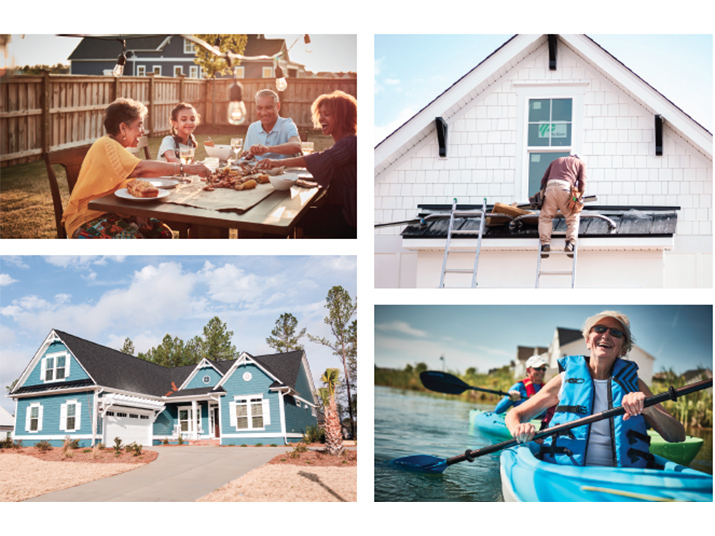 Jun 29, 2022
• 6 min. read
| By Jenny Callison
With growth in the Wilmington three-county market area projected to reach nearly 570,000 by 2040 – an increase of about 34% over the 2020 population – builders and developers are striving to meet current and future demand for housing.
In New Hanover County, where vacant land suitable for large residential developments is scarce, Riverlights is one exception. This 1,400-acre master-planned community bounded by the Cape Fear River offers a mix of housing, from rental apartments to townhomes and single-family homes. It includes a Del Webb neighborhood for residents 55 and older, while also featuring homes whose design and price appeal to young buyers and families.
Charleston, South Carolina-based company New Leaf Builders is new to Wilmington, expanding specifically because of the opportunities available in Riverlights.
"We have two collections at Riverlights: one, The Piedmont, is designed with the retiree demographic in mind," said Tyler Henrikson, a sales consultant with New Leaf. "The homes are designed with the main living area focused around a covered courtyard, and they offer three bedrooms and two baths with an attached two-car garage."
Potential buyers who are retired or soon-to-be are looking for a bedroom that can serve as a home office, Henrikson continued. Also high on their list of desired features: hardwood floors throughout the house; one-level living or at least a main-level master; a fireplace; a fully tiled, walk-in shower and a natural gas kitchen.
"The Piedmont Collection homes range from 1,850 to nearly 2,400 square feet. They are built on a standard lot, but it may be smaller than the buyers had previously," Henrikson said. "There is a shift toward low-maintenance yards."
Among Riverlights' attractions for people relocating within the Wilmington market as well as those new to the area is its sense of community, according to Henrikson. Amenities maintained by the homeowners association include a clubhouse, swimming pool and gym as well as walking and biking trails.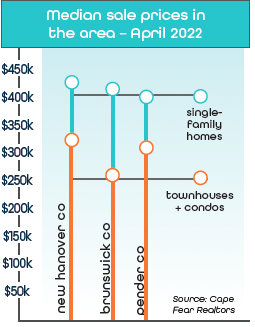 Partly because of the growth at Riverlights, the southwestern portion of Wilmington has seen a boom in commercial development nearby, from grocery stores to specialty retail to a wide variety of restaurants and a movie theater.
The eastern portion of Pender County is experiencing significant growth as well, with new housing developments under construction and in the planning stages.
Windsor Homes, based in North Carolina's Triad area, is building two new communities in Hampstead: The Arbors and The Terraces, with homes ranging from just under 1,700 to 3,000 square feet and price tags from about $328,000 to $450,000. While many potential homebuyers are military families connected to Camp Lejeune in nearby Jacksonville, Windsor is seeing a number of retirees showing interest in its models and homesites.
"I get phone calls from up north, from retirees," said Jason Cox, a Realtor who is a new home sales associate for the company. "A lot of them are looking for one-level living or that downstairs master. We have a couple of floor plans that have a downstairs master bedroom. Others are mostly on one level but have a frog (finished room over garage, a local term for a bonus room)."
While open floor plans for the main living areas are in demand, Cox is seeing another trend among would-be buyers: requests to repurpose the dining room space into a study.
"With COVID, everyone is working from home; even some retirees are coming back into the workplace," he said.
Increased demand along with supply problems caused by COVID have complicated pricing and selling for builders.
"Before COVID, Windsor strived for presales," Cox said. "The buyer picked a lot, picked a house and we started from the beginning and locked in a price. Now it's more difficult with labor and materials shortages. A home takes at least a year to build. After the drywall is in, we have to have the right to adjust the price if costs have risen. That's making presales difficult, so now we're just specing out and pricing the homes. We try to put as much that people want in our spec homes."
Backlogs are affecting many new developments in the Wilmington area.
"We order materials as soon as possible so delays cause less of an impact," said Grae Hawks, on-site broker for The Lakes at Pine Forest, the first neighborhood in Pine Forest of Oak Island, a large development taking shape in Brunswick County.
While there are price uncertainties due to rising materials costs, the price of a home is finalized when the buyer signs the contract, she said. The Lakes homes range in cost from the low-$400,000s to the mid-$500,000s.
Plans call for Pine Forest's 2,000- acre expanse to include a mix of single-family, apartment and townhome units, an 80-bed assisted living facility, community facilities, a connected walking trail and dog parks. A medical clinic, Novant Health Family Medicine Pine Forest, is located within Pine Forest and has a contractual agreement with the development, although it serves residents of surrounding communities as well.
"We are not an age-restricted community, but we are senior-targeted," said David Davis, Pine Forest's director of marketing and business development.
Demand has been strong for The Lakes, many of whose homes offer one-level, open-concept floorplans and range from 1,650 to 2,600 square feet, Hawks said.
Hawks said that many future homeowners are living in the community's apartment complex, The Hawthorne at Pine Forest, while their new homes are being built. The Hawthorne's first phase of upscale one, two and three-bedroom apartments is complete, with more than 150 units. A second phase will bring the total number of apartments to more than 300.
Northern Brunswick County is home to several well-established housing developments such as Brunswick Forest, Waterford, Magnolia Greens and newer Compass Point. Farther south is St. James Plantation, an expansive golf community.
Developments in the pipeline range from those featuring large homes on big lots to mixed-use and multifamily communities. Two new developments are ones that Brunswick Senior Resources Inc. is creating in partnership with private developers.