Weekend Meals on Wheels cruising into Brunswick County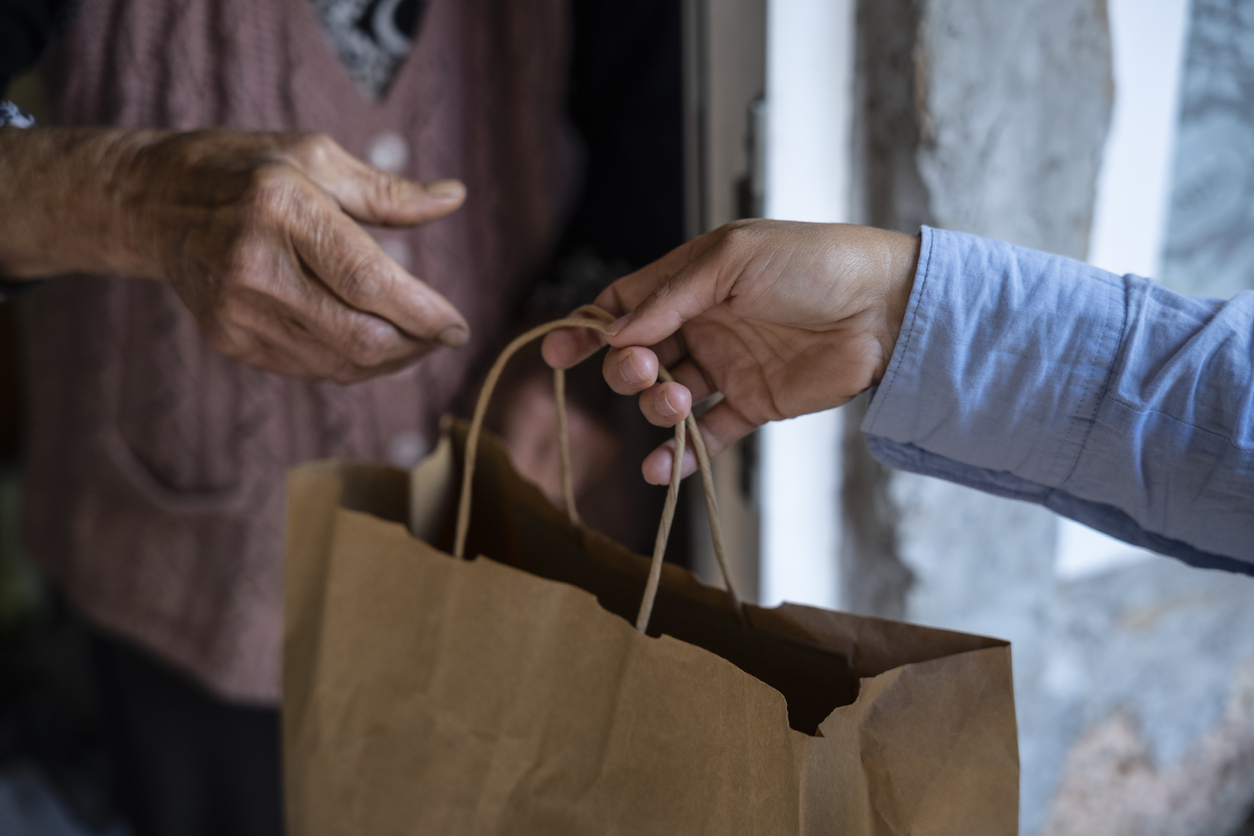 Dec 15, 2022
• 4 min. read
| By Miriah Hamrick
Volunteers with the Weekend Meals on Wheels programs provide food and companionship for homebound older adults. (iStock.com/Daniel Balakov)
A successful volunteer organization providing meals to homebound older adults in New Hanover County is expanding to Brunswick County next year.
Weekend Meals on Wheels of New Hanover County is sponsoring a pilot program set to launch during the first quarter of 2023. Like the New Hanover organization, the Brunswick program will ensure that homebound older adults eat at least one meal on Saturdays and Sundays, a time when a patchwork of government-funded programs providing daily meals is not operational.
Alleviating hunger is a top concern, said New Hanover program treasurer Don Pevonka, as is the opportunity for social interaction with the volunteers delivering the meals.
"It's so much more than just a meal. A lot of elderly homebound individuals do not have daily contact. This is something they really look forward to: that knock on the door and that person they know, who knows them, just saying hi and asking about them," Pevonka said.
Weekend Meals on Wheels of New Hanover County has allocated $10,000 in seed money to fund the first six months of the pilot program, which will begin by serving 25 clients from the Leland campus of Brunswick Senior Resources. From there, the plan is to eventually expand service to operate from all five campuses of Brunswick Senior Resources.
"We're starting with one senior center and trying to get as much learning as we can, use the systems that they've already got in place, and then build upon that pilot to take it to the next senior center and the next," said Pevonka.
New Hanover's Weekend Meals on Wheels program launched in 1990 to "fill in the gaps" in meal delivery for older adults on weekends and other times when senior centers are closed (for example, on holidays or during extreme weather events). Today, the New Hanover group delivers meals to about 350 clients every weekend, and Pevonka said the Brunswick senior centers have identified a similar number of potential clients – a task made difficult by the size of the county.
"The big challenge in Brunswick County is we have about the same amount of clients, but we have to about five times the geographical area to cover," he said.
For now, the staff at Leland's senior center who prepare and deliver meals on weekdays will take on extra weekend duties while the pilot program builds a network of volunteers to take over. Volunteers perform two general tasks: meal preparation and meal delivery. These tasks can be handled by an individual volunteer, a group of family or friends, or churches and other organizations.
Each delivery route is limited to about 10 stops so that meals remain hot while volunteers travel and visit with clients. Most volunteers who perform this duty do so regularly and form close relationships with their clients, according to Pevonka.
"They consider those people to be their people and they want to make sure that they continue to have that relationship," he said.
Meal preparation duties include buying ingredients for the food, which Pevonka said can surprise some people who inquire about volunteer opportunities.
"That is one of the hurdles. To say we need volunteers is one thing. To say we need volunteers and a couple hundred dollars a month is another thing," Pevonka said. "It's a challenge, but it's something that we've proven to be able to tackle in New Hanover County."

Despite the financial commitment for some volunteers, Pevonka said people rarely step back from participating after they get started.
"Once people do it, they tend to get hooked. They tend to want to do it more and more," said Pevonka.
He recommended that those interested in volunteering for the new Weekend Meals on Wheels program in Brunswick County complete the form on the New Hanover program's website and indicate in their message that they're interested in volunteering in Brunswick County.