Fifty years, full circle: Residents of Old Wilmington marks golden anniversary with resumed home tour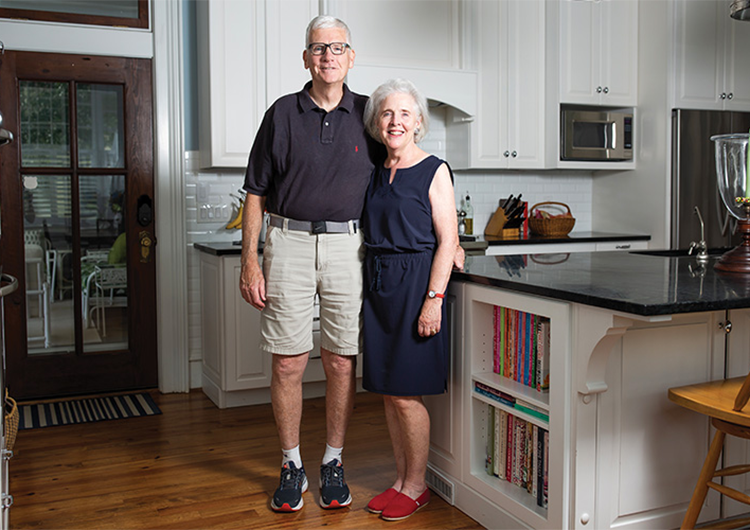 Sep 5, 2023
• 3 min. read
| By Justin Williams Pope
Denis and Trisha McGarry stand in the home they restored in downtown Wilmington. The couple's house will be included on the Residents of Old Wilmington Back Door Kitchen Tour. (Photo by Madeline Gray)
Fifty years ago, a group of downtown Wilmington residents banded together in hopes of sowing seeds of change in their neighborhood. A decade after the 1960 exodus of the Atlantic Coast Line Railroad headquarters from downtown's northern waterfront, Residents of Old Wilmington was created to celebrate and support the historic charm of downtown.
"It started as a way to bring some life back to downtown after the railroad had left," said Denis McGarry, Residents of Old Wilmington president and "mayor," of the group's founding. It was important to locals at the time to see Wilmington flourish and find its place again after the railroad, the city's largest employer, left for Florida, he added.
Residents in the oldest sections of downtown's first historic district started to showcase their homes as a way to give back to the community and promote awareness of the importance of preserving Wilmington's rich heritage. Today, this work continues through Residents of Old Wilmington's annual Back Door Kitchen Tour, revived this year after a pandemic-induced pause.
The group's support of downtown is deeper than organizing home tours. Over the decades, the Residents of Old Wilmington has given back to the community through various grants supporting beloved historic venues such as the Burgwin-Wright House and Gardens and the Bellamy Mansion Museum as well as local nonprofits like The Salvation Army of Cape Fear, DREAMS of Wilmington and Cape Fear Museum of History and Science.
When the Back Door Kitchen Tour resumes Oct. 14, ticket holders have the opportunity to peek inside historic homes in the downtown district's vibrant collection of architectural styles.
According to Residents of Old Wilmington officials, the 2023 tour includes nine homes, all dating to the 19th century. Many have seen upgrades over the years to include modern conveniences, but the unique design and architecture in the homes still remain, with styles including Queen Anne, Federal, and Italianate.
While the boundaries of the Residents of Old Wilmington's neighborhood stretch from Queen to Red Cross streets between the Cape Fear River and Eighth Street, this year's homes are all located west of Market Street along Second through Sixth streets for ease of transportation. As they did in the earliest days of the organization, members of the group are excited to welcome guests into their homes once again.
"We are so happy to be able to bring this kitchen tour back. We look forward to opening our doors and inviting everyone in," McGarry said.
Residents of Old Wilmington's Back Door Kitchen Tour is Oct. 14, 11 a.m. to 5 p.m. Tickets cost $40. More information about the tour can be found on the Residents of Old Wilmington website, and tickets can be purchased on Eventbrite.